News culture Season 2 of Wednesday on Netflix will be very different, says Jenna Ortega
Good news for some, the next season of Wednesday on Netflix is ​​dropping the love for horror.
Barely 20 years old, Jenna Ortega, lead actress of the sensation Wednesday series, will take on the role of producer on season 2. During a filmed discussion with Elle Fanning for Variety, the star shared some tidbits about the sequel to the Netflix production:
We decided to focus a little more on the horror aspect of the series. Because it's a lighthearted show, with vampires, werewolves, and superpowers, it shouldn't take itself too seriously.
"We're dropping any love interest for Wednesday, which is really great.", she added, referring to the love triangle of season 1, which involved Wednesday and the characters of Tyler Galpin and Xavier Thorpe. Ortega also spoke about his new position, referring to a natural evolution: "We had already tossed around so many ideas, and I'm a very pragmatic person. I want to know what's going on."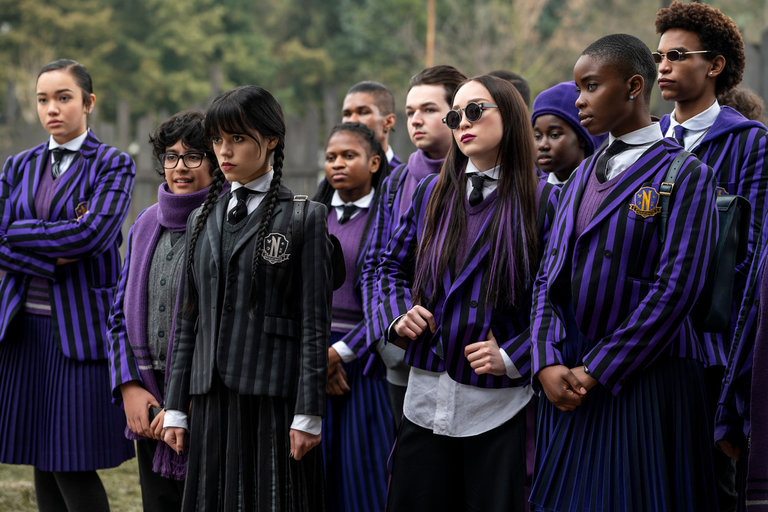 And with a character like Wednesday, who is so beloved and so legendary, I really didn't want to go wrong. So I try to have as many conversations as possible. On set, with the writers and Tim, we all got together to decide what works and what doesn't. It was already naturally very collaborative.
Remember that season 2 of Wednesday does not yet have a release date.
---
The script controversy
Last March, Jenna Ortega already said that she had deliberately modified the script for the Wednesday series, finding herself in disagreement with the vision of the writers: "There were times on the set where I almost lacked professionalism in a way, where I started changing the script. The script supervisor thought I was doing something, and then I had to sit down with the writers and they were like, 'Wait, what's going on? happened in this scene?" And I had to explain why I couldn't do certain things. Everything that she does, everything that I had to play, had no meaning for the character. The fact that she was in a love triangle had no meaning. sense". A declaration which had strongly reacted to the screenwriters on strike, who then ironically invited Jenna Ortega to join them on the picket line before reminding him that rewriting a script is also writing.