On Thursday, local authorities and representatives of the academic and cultural environment laid wreaths at the bust of the poet Mihai Eminescu in Copou Park, to commemorate 134 years since his death.
On this occasion, the "Mihai Ursachi" Culture House organized a music and poetry show in front of Teiului under which Eminescu wrote part of his literary masterpieces.
At the performance entitled "Eminescu to judge us" more than 100 people came to listen to the poets Cassian Maria Spiridon, Valeriu Stancu, Nichita Danilov, Vasile Burlui, Aurora Ciucă, Ştefania Hănescu, Aurel Ştefanachi and Daniel Corbu. Also, the actress Laura Bilic and the singer-songwriter Adi Beznă recited and performed poems and musical pieces from the Emincian lyric.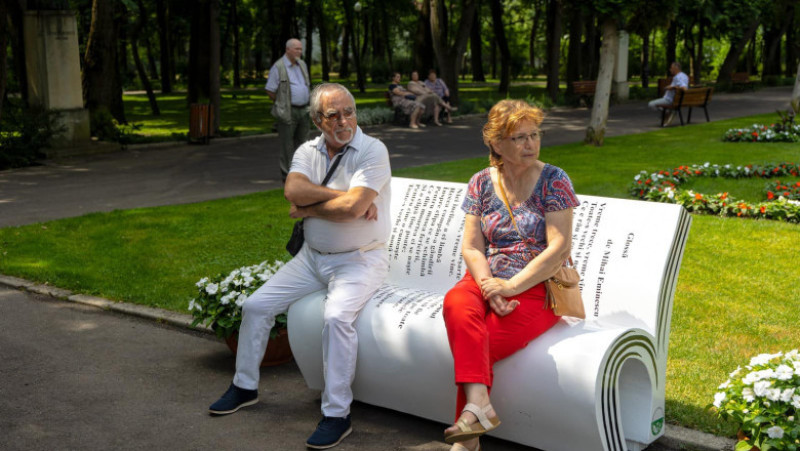 Students from several high schools in Iasi recited poems under Eminescu's Linden.
"Having himself become an angel of Romanian culture, a tutelary and omnipresent spirit, I believe that Eminescu watches over us from his eternity and watches, sometimes with sadness, sometimes with satisfaction, the destiny of this country and this people. If in his poetry Eminescu sang nature and love like no other, as a journalist the bard from Ipoteşti cried and revealed to us with maximum and painful lucidity all the diseases from which Romania suffered, and still suffers. Mihai Eminescu showed us that if you want to change a society for the better, you are obliged to respect its culture and scholars", declared the mayor Mihai Chirica.
The mayor also stated that investing in culture, in full agreement with our own identity and universal values, "would ensure our survival as a nation, even in the most difficult times, and would force us to become better, fairer , but even more critical of what is happening around us".
The mayor of Iasi subtly criticized the fact that we rarely remember the national poet, according to Agerpres.
"I repeat an exhortation: let's not remember Mihai Eminescu only twice a year, on June 15 and January 15, but to always have him in our minds and hearts as the complete man of Romanian culture who was totally identified with the soul his country. We must be happy that we have one more reason to talk about another symbol of the Romanian nation – Mihai Eminescu -, along with the flag and the national anthem and the coat of arms of the country", said mayor Mihai Chirica.
Editor: Liviu Cojan