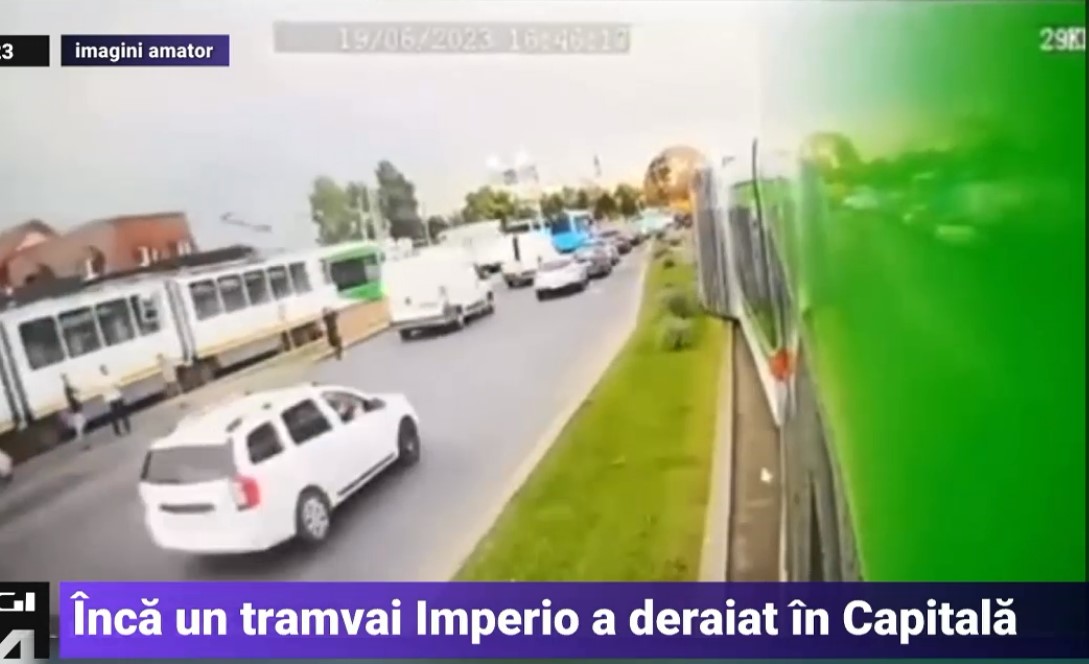 The accidents are linked to the new Astra Imperio trams of the Capital City Hall. Another one derailed on line 25. The images capture the moment when the tram leaves the tracks, in motion, and hits another, which was traveling on the parallel line. Since they were purchased, several Astra Imperio trams have either derailed or caught fire.
The Imperio model tram, entered the tracks in Bucharest this year, and which was running on line 25, derailed in a curve on Giurgiului Road, in the south of Bucharest.
In the images captured by the camera mounted on the outside of the vehicle, it can be seen how the rear carriage crawls along the tracks for tens of meters, hits a road sign and destroys the curb and the green space between the tracks.
As it passes a tram traveling in the opposite direction, the derailed carriage hits the rear of the other tram, which was traveling on line 7.
Traffic was blocked in the southern area of ​​Bucharest for an hour and a half, and the case is now being investigated by a committee of the Bucharest Transport Company, especially since the tram was seriously damaged following the incident.
The general mayor of the capital, Nicuşor Dan, says that the derailment is "strange" and "unexpected", considering that the tracks were rehabilitated in the early 2000s.
"The tram tracks, those rehabilitated in the early 2000s, should not be a problem. That is precisely why the incident that happened now with the Imperio derailment is strange. We have to see what happened, because it is also a contractual condition that the new Imperio trams, bought with European money, run on rehabilitated tracks", said the mayor.
It is the second serious incident in public transport in the last three days. Over the weekend, a tram rail tore through the floor of a bus near the city centre. Fortunately, there were no passengers in the tram. But the case recalled the deplorable state of the tram tracks in the Capital, in some regions that have not been rehabilitated for decades.
And STB employees say that every race is a real challenge.
According to STB data, in Bucharest there are approximately 50 kilometers of tram tracks between 35 and 45 years old that have never been rehabilitated and which, according to experts, are in a state of extensive degradation and endanger traffic.
Editor : I.C