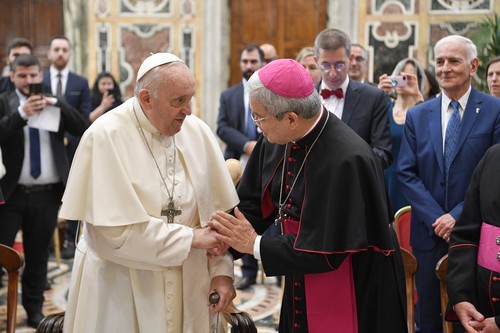 Pope Francis was unable to deliver a planned speech at a conference on Thursday, saying he was still having trouble breathing following recent abdominal surgery.
"I am still under the effects of anesthesia, my breathing is not good," Pope Francis declared at a conference of the Eastern Catholic Church, specifying that the delegates will receive a text of the speech instead.
Asked how he feels, the sovereign pontiff, aged 86, replied: "I'm still alive".
Pope Francis was operated on June 7 at the Gemelli hospital in Rome under general anesthesia to absorb some painful "adhesions" from the abdominal wall, consequences of his colon surgery in July 2021.
The sovereign pontiff was discharged nine days after the surgical intervention. He had a busy schedule after returning to the Vatican last Friday, including meetings with the presidents of Cuba and Brazil.
Pope Francis had eight events on his schedule for Thursday.
Publisher : AP