Game news How did these two inexperienced Australians manage to surpass Nintendo?
Hollow Knight, a nugget that came out of nowhere and gave design lessons to the greatest, including Nintendo. However, the creators of this work can be counted on the fingers of one hand, and among them, many beginners. In JV Legends, we trace the story of an amazing development that started in 2013.
Hollow Knight, what is it?
Hollow Knight is developed by Team Cherry, with Ari Gibson on 2D/3D animation and William Pellen on programming. The title is what is called a Metroidvania : we walk from zone to zone, we face a whole bunch of enemies and bosses, we recover skills that allow us to unlock new paths on a series of maps, etc… The name comes from the two games that democratized the genre: Super Metroid and Castlevania: Symphony of the Night.
The project was born in 2013 in Australia during a gamejam. The prototype is called "Hungry Knight" and there is already a lot of Hollow Knight DNA in it (the prototype is still playable ici). It is during another gamejam that they will have the revelation. The theme of the competition is: "Beneath the surface". With their insectoid hero already in their pocket, ideas came together very quickly.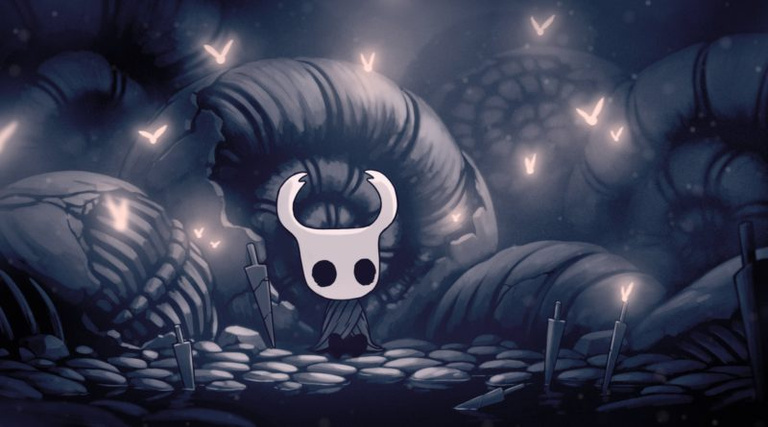 For the full story of Hollow Knight, watch the video header
After that ?
The project finally comes out in 2017, several years after the date originally planned. But the artistic and musical prowess, without forgetting the gameplay, catches the eye of a lot of players.. Team Cherry, made up of beginners at the base, has done a monstrous job of making a small gamejam project a true reference of the genre. The game will sell more than 3 million copies, a total success for an independent game.
Hollow Knight was originally offered on Kickstarter, and one of the milestones reached promised the possibility of a second playable character, which unfortunately never happened. But it gave Team Cherry some ideas:
Hollow Knight: Silksong, a second episode where the character of Hornet, female version of the knight, will be the new protagonist. Many images of the game and its gameplay are presented in 2019, but still to this day, no release date has been made official. They take their time to polish Silksong, and no doubt fans will be there when it comes out to savor the game at its true value, title that will be the fruit of an unconditional love for this noble art that is video games.