News astuce How to trade cards in Harry Potter: Magic Emerges?
That's it, Harry Potter: Magic Emerges is finally available in our region and you will be able to discover its new features. Among these, we find map sharing and we will tell you how it works in this article.
As we just told you, Harry Potter: Magic Emerges is a card game, although you're not just going to have to throw cards. Indeed, you also have a whole part management of your character and placement on the battlefield.
As for the cards themselves, you will have three types. Creatures, spells, as well as acolytes. Each of these cards will have a very specific effect. Creatures cost mana and have a HP bar which, once it drops to zero, makes them disappear.
Spells also cost mana, activate briefly and then disappear. Finally, the sidekicks have no mana cost, but a cooldown before they can be activated. These cards, they each have a base power and HP (for sidekicks and creatures).
You will then be able to boost them by accumulating several copies of the same card, which will allow you to level them up for gold. If you are missing cards, you have the possibility of making exchanges to obtain them.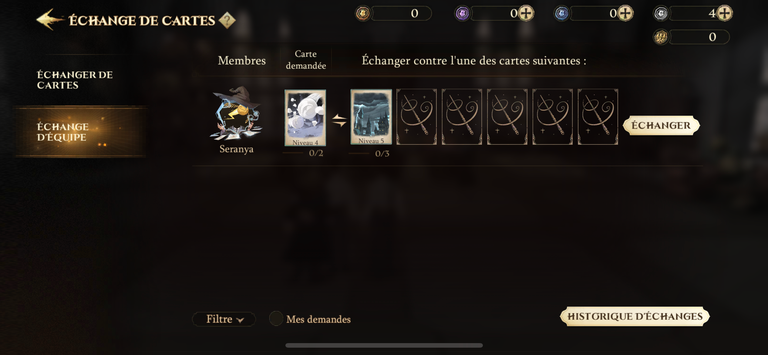 To exchange cards on Harry Potter: Magic emerges, there is nothing very complicated to do. The first thing will be to join a social clan to be able to find active players with whom to trade. Once it's done, click on the "social" button at the bottom of the screen.
Once you're in the menu, go to your clan's submenu and you should see a button appear on the right side of your screen to trade your cards. Click on it and this will open a new menu with two options.
The first is going to be to propose an exchange yourself. Indicate the desired card and the one for which you will exchange it, then validate. Your offer will then land among those available. Players will then only have to navigate among them and if someone is interested in this exchange, all they have to do is validate it. The second option is therefore to go through these offers directly.