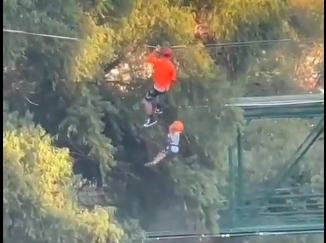 A family trip to an amusement park in Mexico could have ended tragically last week when a six-year-old boy fell 12 meters into the void while ziplining. The child miraculously survived after landing in a lake and was rescued by a tourist, reports CBS News.
A clip posted on social media shows how the boy, who was in Monterrey's Fundidora Park, slipped from the zipline after the harness he was in broke. Although the little one was accompanied by an adult, he could not react in time.
According to local media, the child fell about 12 meters into the void. The boy's older brother, J Cesar Sauceda, wrote on Facebook about the incident and blames the staff for the lack of training to act in such situations. "I thank God for saving my brother from the spectacular accident caused by the unprepared team and the bad installation of the zip line," Sauceda wrote on Facebook.
Nataly Moreno, the little boy's sister, said a tourist jumped in to pull him out of the water, but was close to drowning with him and it took her boyfriend and another brother to save them.
"The park doesn't have people trained for this type of situation, no one was able to help him and pull him out of the water," she said. "It's unbelievable that a disaster can happen in an instant," Nataly said.
The incident, which took place on June 25, prompted the Civil Protection Agency of Nuevo Leon to suspend the zip lines that are part of Fundidora Park. Park officials said on Facebook that the incident triggered a "thorough investigation" to determine what happened.
Editor : C.L.B.