News astuce Zelda Tears of the Kingdom: They recreate BotW's Rage of Revali using a simple food! A real trick to get out of difficult situations
Tears of the Kingdom and Breath of the Wild have the particularity of sharing a lot of common points, one being the direct sequel to the other. Except that there are still some powers that have disappeared, such as Revali's Rage. Fortunately, players have found how to reproduce it!
What is Revali's Rage?
As we have just told you, The Legend of Zelda: Breath of the Wild and Tears of the Kingdom share many common points in terms of game mechanics. However, there are still some new features and also some points that have not returned.
Among these, we find the Rage of Revali. To obtain this power in Breath of the Wild, you had to defeat Ganon's Wind Shadow, activate the Divine Creature Vah'Medoh's CPU, and return to Revali who gave you this power.
Once you had it in your possession, you could create an updraft. You then had three activations, then a 6-minute cooldown started. Except that this power is not available in Tears of the Kingdommuch to the chagrin of some of the fans.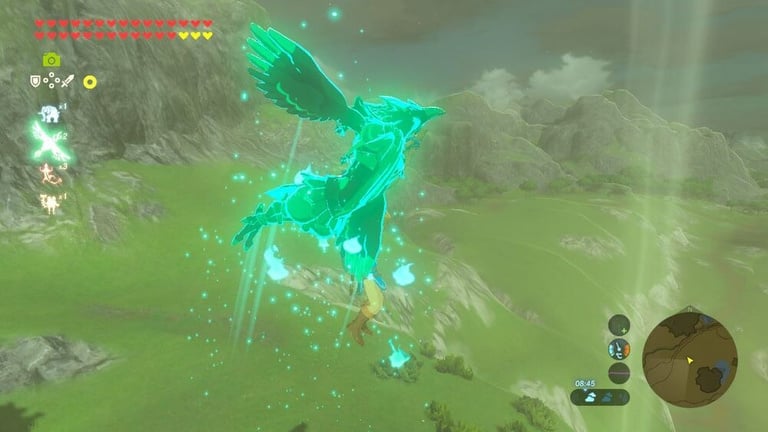 Except that with Tears of the Kingdom, the possibilities offered to players are quite crazy. We think in particular of the construction system which allows you to create machines to help you in your adventure. Since then, players challenged themselves.
This challenge was to find an alternative to reproduce Revali's Rage, even if this power is not officially in the game. They then looked for combinations and constructions to try to reproduce this effect.
It is on Reddit that a user with the pseudonym of Very Nice Shoes shared his discovery. The trick to reproduce this power is very simple and on top of that, it is clear that it works very well. To replicate this effect in your game, you must have two things.
The first one, it's a chilli stock, the second a fire one-handed weapon. Then launch a charged attack and during this time, go to the menus and drop a pepper. Once the attack is launched, it will create an updraft resembling Revali's Rage. It is a technique much more profitable than that of the rockets!
Summary of all our guides and tips for Zelda Tears of the Kingdom