The first foldable phone in the Pixel series has already raised some question marks on the reliability side, with at least one sample sent to journalists for review breaking down within the first few days of use, with similar testimonies appearing on social media platforms from ordinary users. But what does the new Pixel Fold look like on the inside and how difficult is it to repair if the battery or one of the screens fails.
With guaranteed access to three major Android updates and up to 5 years of extended support through access to essential security patches, the Pixel Fold series could be a tempting option for those looking for a foldable phone to use for a while longer. However, two "obstacles" appear: the very steep price and the alarming news regarding the rather questionable reliability of the new flagship.
Contrary to expectations from a foldable with a price of almost $2000, the Pixel Fold comes with many of the shortcomings of the first generation of foldable phones: doubts about reliability, a main screen with a very easily noticeable folding area, and even a hinge that does not open even 180 °. Thus, the first generation Pixel Fold can be opened like a notebook, without getting a perfectly flat screen.

Another argument against buying a Pixel Fold phone would be the difficulty of repairs. For example, to replace the two batteries it is necessary to "dissect" the phone by extracting several screws and ribbon connectors, accessible only after detaching the secondary screen and the glass cover. The good news is that the latter are easier to change if something happens.
In contrast, for the main foldable the situation is "complicated, with the author of the clip refusing to continue the disassembly on the grounds that the main screen cannot be extracted non-destructively. And if such a repair is still necessary, it is hard to believe that the replacement screen can be installed on the old case chassis. Rather, like the Galaxy Fold phones, it comes in the form of a screen+chassis aluminum case module, expensive to purchase and painstakingly assembled by extracting and reassembling all the remaining components on the old chassis.
Another problematic fix is ​​replacing the USB-C connector, which comes soldered onto the main circuit board and can't be pulled out like the separate module.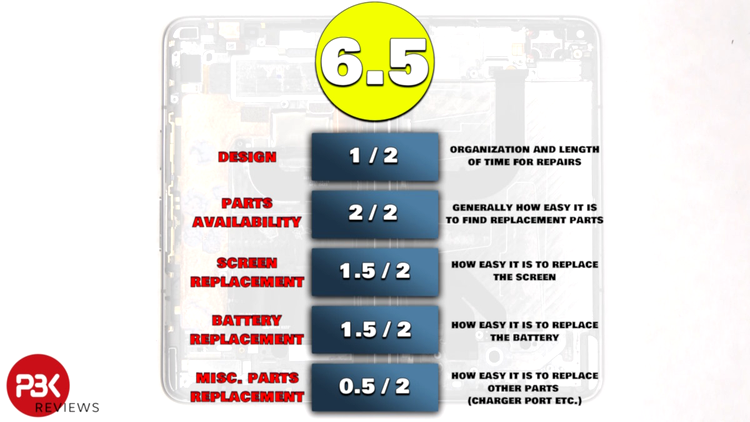 Scoring a repairability score of 6.5/10, the Pixel Fold is only marginally easier to repair than the Pixel 7 (6/10), lacking many of the durability attributes found in other recent-generation smartphones.