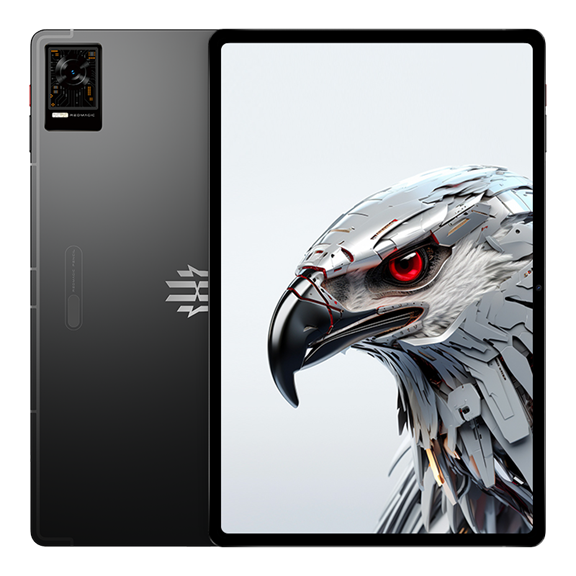 While gaming phones are a relatively common occurrence, the same cannot be said for gaming tablets, with Chinese brand Red Magic offering a rare example of an Android tablet specifically optimized for gaming.
Owned by Nubia, a ZTE portfolio company, the Red Magic brand is more associated with high-end phones, the release of a tablet of this caliber is sure to pique the interest of at least some Android users. The bad news is that the first Red Magic tablet debuts as a Chinese market exclusive, with the pre-order price of $540/$635 only making Western buyers envious.
Although, it remains to be seen how this affects the ergonomics and handling of the tablet, the IPS LCD screen comes with an impressive diagonal for a tablet, 12.1 inches. With an emphasis on the visual experience, the tablet uses a resolution of 1600×2500 pixels and a refresh rate of 144Hz (240Hz for the touch interface). On the other hand, for reasons of limiting energy consumption we cannot have brightness like a gaming phone, remaining content with a reasonable 600 nits, more than enough for use in closed spaces.
Another choice made this time to limit costs is the selection of a Snapdragon 8+ Gen 1 chipset from last year's generation, helped by 12GB or 16GB of RAM memory, respectively 256GB or 512GB of internal storage with UFS 3.1 format. Instead, we have a cooling system from the ICE Magic range, which should avoid any performance limitation that would be imposed by the criterion of too high temperatures.
The equipment list is completed with a 13MP main camera and 16MP front camera, respectively, 10,000 mAh battery with support for 80W fast charging via USB-C (approx. 55 minutes standby time 0-100%).
The deal also includes a detachable tablet, plus a capacitive stylus, both available as optional accessories at prices of $85 and $55.