News culture Asterix and Obelix Mission Cleopatra: don't leave the cinema before the end, Alain Chabat has a surprise for you!
If you are going to see Asterix and Obelix Mission Cleopatra in the cinema, stay until the end for a surprise.
Since Wednesday July the 5th, Asterix and Obelix Mission Cleopatra is playing in theaters again, more than 21 years after its initial release. After Asterix and Obelix The Middle Empire, which was not unanimously approved by the press and spectators, fans can already discover or rediscover a cult film with these same heroes. It is therefore a restored version in 4K which is currently being shown in cinemas to the delight of fans, and at 5 euros only !
Released in 2002, this cult film marked an entire generation with its many unforgettable cult lines. At the time, he had accumulated 14 million spectators, and had been a great success. Two decades later, this reworked version sounds like a gift to fans. This new theatrical release is also an opportunity to discover this feature film for the youngest who have never seen it.
Also read: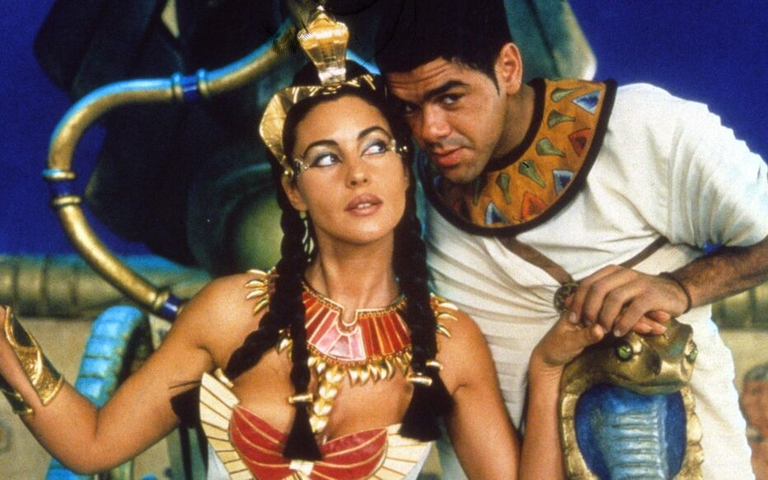 ---
Don't leave the movie theater too soon!
In addition to providing a restored 4K view that allows many viewers around the world to enjoy the beauty and detail of this film, new scenes are waiting for you ! It is at the very end of the film that you will have to be attentive and above all, do not leave the room too early. Several new content will be broadcast, including scenes with actors and comedians Omar and Fred, Jamal in his role of Numérobis, but especially the long version of the monologue of the character of Otis (Edouard Baer). However, this video has already been officially broadcast on the networks to celebrate this cinema release of Asterix and Obelix Mission Cleopatra.
During the Popcorn program on Twitch, Alain Chabat returned to several highlights of the filming of this cult feature film, and spoke of the French actor's ability to improvise. Eh yes, Edward Baer only had an opening and ending phrase, but everything else was an invention at the time of filming in 2002.
This post-credits scene is also an opportunity for Alain Chabat to thank the spectators who, more than twenty years later, are still there in dark rooms. Without revealing more, he takes the time to address the public. So if you want to discover the unseen passages of this cult film, it is still shown in the cinema!