While the middle layer is disappearing day by day in Romania, if it ever existed, the poorest Romanians are getting poorer. This is how we got to the situation where an overwhelmingly large percentage of the Romanian population can no longer afford the "luxury" of an adequate meal.
The European Institute of Statistics, Eurostat, has published the latest analysis on the level of poverty in European countries, taking into account the possibility of people to afford an adequate diet, quantitatively and qualitatively. Almost predictably, Romania and Bulgaria top the list of shame. No less than 43% of Romanians are at risk of poverty, increasing significantly from one year to the next, while the percentage in Bulgaria is 44.6%.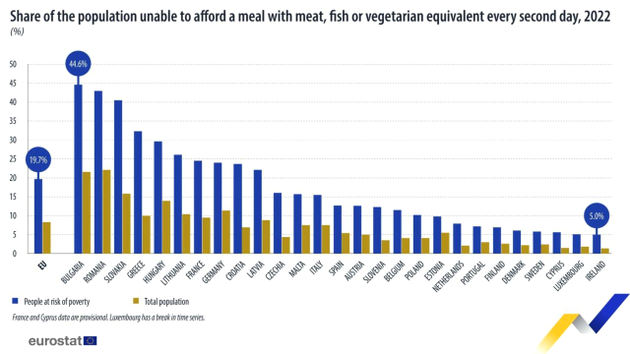 How poor Romanians are, in fact, in relation to Europe
Among the countries of the European Union, 8.3% of the population could not afford to eat a meal containing meat, fish or a vegetarian equivalent every two days in 2022, an increase of 1% compared to 2021. If we analyze the risk of poverty, the European average was 19.7% of the population, 2.2 percent more than in 2021. The highest share of people at risk of poverty who cannot afford an adequate meal was recorded in Bulgaria – 44.6%, Romania – 43% and Slovakia – 40.5%. At the opposite pole, the lowest share compared to the same reference was recorded in Ireland (5%), Luxembourg (5.1%) and Cyprus (5.6%).
According to Economedia, the ability to afford a meal of meat, chicken, fish or a vegetarian equivalent every two days is among the items observed at the household level to calculate the rate of severe material and social deprivation. This is one of the main indicators of the European Pillar of Social Rights – Social Scoreboard of Indicators.
In the long term, the European Union, on the list of Sustainable Development Goals (SDGs), also included the ability of the population to afford an adequate meal and the eradication of hunger in the community block, together with the abolition of all forms of malnutrition, simultaneously facilitating access to a safe, nutritious and adequate food.