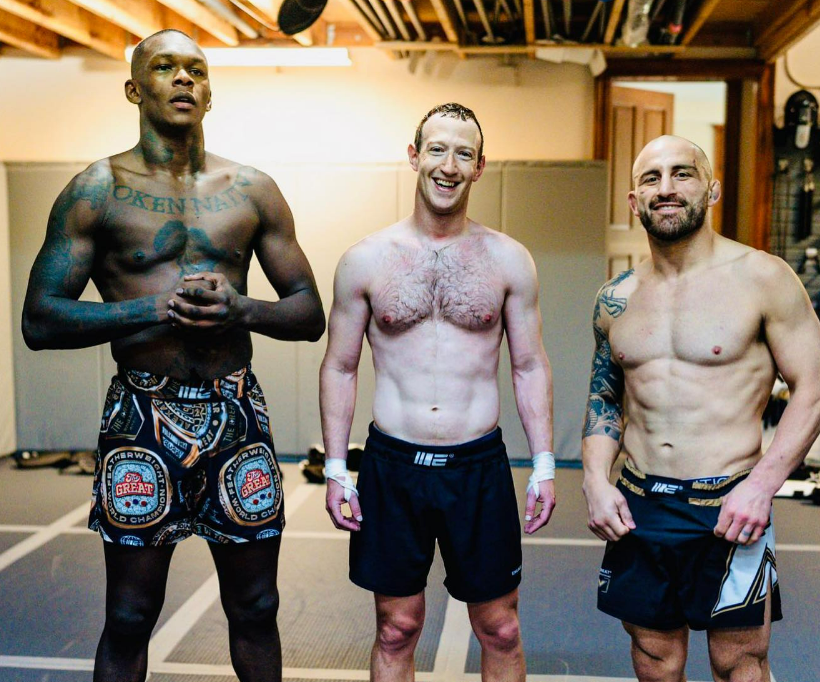 Mark Zuckerberg appeared shirtless in a photo with two famous MMA fighters, Israel Adesanya and Alexander Volkanovsky. The photo was posted by Israel Adesanya on his Instagram account, and the description of the image seems to confirm that Zuckerberg is training for a possible cage fight with Elon Musk. "Mark is not running away. This is serious business," the fighter wrote next to the photo gallery.
Mark Zuckerberg feels extremely confident lately, as evidenced by the photos and videos that he himself posts on Instagram.
And when it comes to the level of training, the Meta CEO has two of the most famous MMA fighters by his side – Israel Adesanya and Alexander Volkanovski.
"Mark is not running away. This is serious business," Adesanya captioned the three photos posted of the META CEO, alluding to talk of a potential cage fight between him and Elon Musk.
The move to train with Adesanya and Volkanovski comes as Musk accepted an invitation to train on Twitter from a former MMA legend.
George St-Pierre wrote on July 3 that he "had a great workout" with Musk.
Soon after, Zuckerberg launched Threads, a rival social platform to Twitter. The launch led to several mischievous comments made by Musk, including the proposal of a "penis measuring contest".
A Meta spokesperson declined to comment to Insider about the photo or talk of the cage fight.
If there really will be a fight – Dana White, the president of the UFC, has officially stated that he will support the organization of such an eventaccording to BusinessInsider.
In a possible confrontation, the two billionaires will enjoy the attention of the public differently than they have done so far, using their physical assets, not technological ones.
On the other hand, Musk's biographer does not believe in the hypothesis that the two will fight in a cage.
Editor: Andreea Smerea