News astuce Elith Zelda Tears of the Kingdom's Pru'ha Laboratory: how to complete this side quest?
In Tears of the Kingdom, you will have many activities and side quests that will be available to you. In this article, it is precisely one of these secondary quests that we are going to look at, the one called "Elimith's Pru'ha Laboratory".
While some Tears of the Kingdom quests are accessible from the start of the game, for others, you will have to accomplish certain specific objectives. As for the quest "Elimith's Pru'ha Laboratory", it will fall into the second category.
To be quite precise, you will first have to have completed the quest "The temple of the depths". If you haven't already, you can rely on our guide to help you find and complete it. Once this is done, head to the Fort de Guet area.
Once there, you will be able to complete many secondary quests or explore various shrines such as Ixoda Qun for example. But back to our sheep or rather our quest for the "Elimith Pru'ha Laboratory".
To start the quest, you will have to go to Faras who will then offer you to join him in the famous laboratory that has been discussed since the beginning. This is where he will be able to help you by improving your tablet. Once the discussion is over, the quest begins!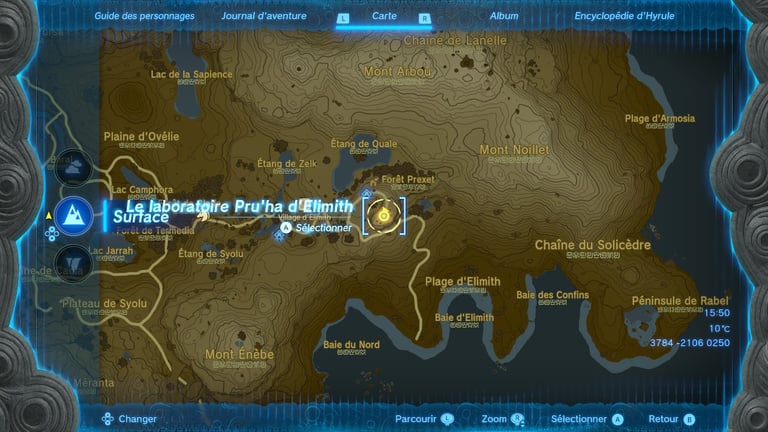 As the name of this laboratory suggests, you will have to go to the village of Elith. Once you are there, you must follow the path that heads east. After a short trip, you will come across Elith's Ancient Laboratory.
Go inside and you will find Faras with whom you can chat. This will then install the Detector of Purifying Sanctuaries directly on your tablet. Then, if you haven't done it yet, you will need to complete the Maya Hisiqa Shrine.
Once the latter has been completed (it is in the Cave of the Prexet forest), you will be able to return to Faras one last time. Once it's done, all you have to do is chat with him and you will have reached the end of this quest.
Summary of all our guides and tips for Zelda Tears of the Kingdom