Game News Starfield: A ship costs 98 sandwiches… Fans worried about space RPG economy
Sometimes waiting for a game can be very frustrating. Evidenced by the investigation of Starfield fans who decide to investigate the economy of the game … through the price of sandwiches.
98 sandwiches for a ship
After Zelda: Tears of the Kingdom or Diablo 4, Starfield also has a place of choice among the most anticipated video games of the year. It is a new license developed by Bethesda, a studio known for having taken over the Fallout but especially the series The Elder Scrolls. The game promises in many respects (writing, density of the universe…). It is for this reason that many curious people linger over every detail that is given to them.
It is with meticulousness and rigor that the players were therefore interested in the 45 minutes of Starfield gameplay unveiled by Xbox and Bethesda in mid-June. In the wake of the presentation, the StarfieldDB site notes that the player's first spaceship, The Frontier, costs approximately 7,350 credits. So he's yours in exchange for 98 salami sandwiches. An astonishing comparison but which serves as a starting point for the concern of the players.
The sandwiches of the discord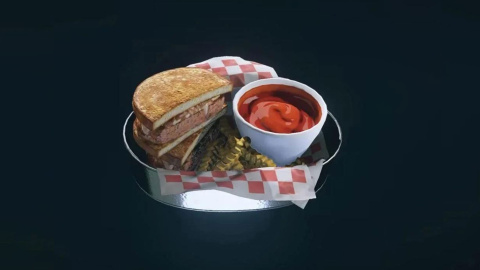 It's certain Reddit three days ago that user Mr_Twiddles shares his concerns about Starfield's economy. The origin of his questioning comes from the Patty Melt, a deluxe sandwich that costs 295 credits. To get an idea of ​​its market value in the gaming world, players once again compare it to the price of starships. On this subject, a comment points out that Bethesda displayed cars whose prices ranged from 13,000 credits to 47,000 credits. In terms of sandwiches, it is therefore between 44 and 160 Patty Melts that are needed.
Worrying prices but which are tempered by other users on the forum. Besides the sarcastic comments about the origin of the beef in Starfield which would make the sandwich expensive, some are more down to earth: the sandwiches will probably not sell for the same price at which it is bought. On the other hand, others believe that the economy in this kind of game is rarely perfect. Especially since there is a key element missing from all this brouhaha: how easy will it be to make money? Answer with the release of the title on September 6th exclusively on PC, Xbox One and Xbox Series.