The general perception of the level of poverty in Romania was anyway extrapolated for many years. Now, the same financial problems of Romanians are put in the context of vacations that most Romanians only dream of.
Approximately six out of ten Romanians do not enjoy the financial comfort necessary to make a 7-day stay per year anywhere on the world map, in the form of a vacation, including in Romania. Predictably, this is the highest and most worrying percentage in the European Union. The percentages from predominantly touristic countries, such as Greece, Croatia, Bulgaria, Italy, Cyprus and Portugal, are also worrying. However, nowhere is it worse than in Romania.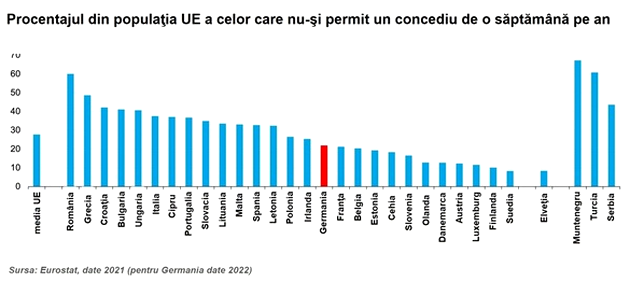 Romanians and holidays
August is marked by holidays of all kinds, and people leave the city where they usually work. This is also the reason why in Bucharest, for example, the traffic drops radically during the month of Cuptor. Unfortunately, the financial comfort of the people of Bucharest is absolutely irrelevant in the national context. People from the capital are the exception to the rule, while 60% of Romanians do not go anywhere on vacation.
Romania ranks last in the European Union when it comes to financial availability for vacations. In second place is Greece, but at a very long distance compared to our poverty level, just under 50% of Greeks have to stay at home on vacation. The only ones in a similar situation to us are the Turks, but they are not in the EU and have been buried in recent years by an unprecedented financial crisis with rampant inflation. Even Serbia is in a significantly rosier situation than ours.
Countries where just over 40% of citizens cannot afford the traditional 7-day stay are Croatia, Bulgaria and Hungary, while Italy, Cyprus and Portugal are slightly below this benchmark, according to Profit.ro. In order to understand even better the problematic situation of Romanians, it is worth considering that the European average on this subject is less than 30%, with Poland, Ireland and Germany at this threshold.
In Denmark, one of the happiest countries in the world, only 10% of people cannot afford a 7-day stay, the same as in the Netherlands, Austria, Luxembourg and Finland. Sweden is even below that figure.