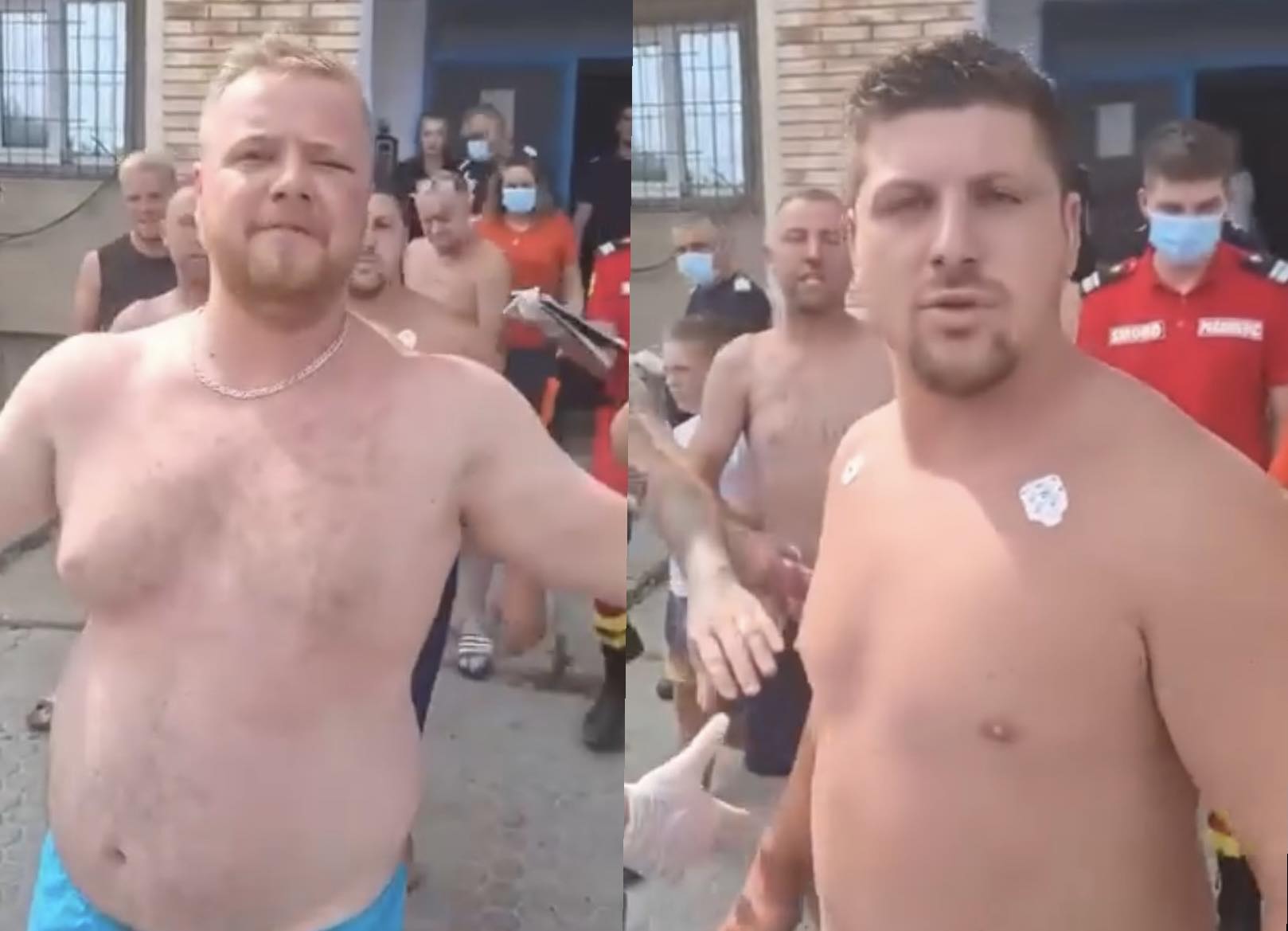 The four men detained after the scandal in the Costinești resort were released on Thursday and placed under judicial control. They didn't hold back this time either, and when they left the police station, they started swearing at the people filming them. "When I catch you, I'll beat you," one of them threatened a man filming. The four men are being investigated for insult, beating and other violence, disturbing public order and peace. Two of them were also investigated and convicted, one in a case of illegal importation of weapons and explosives in Germany, writes News Brașov.
According to the cited source, the men are from Feldioara, Brașov county.
Upon leaving the prison, the four performed circus again. Bare-chested and barefoot, as they were taken from the beach after the fight with the gendarmes and policemen from the resort, they left the police station one by one.
On the footage published on Facebook by the Europol Union, it can be seen how they start cursing the people in the area, who were filming them. One of them left the ward with a swollen eye.
Among the curses, another shouted "may God give us what we suffered, so you suffer too!".
"For all those who claimed that the "beautiful and free young people" who caused the scandal in Costinesti were victims of the policemen/gendarmes, it is so!
You too forget what attitude of decent people they have, of people educated in Christian morals. And look what nice messages they send, even good gestures for their fans.
It is clear and obvious that they were picked up and taken to the police headquarters abusively, when they did nothing but punch, kick, threaten and insult the tourists they didn't like"the Europol Union wrote in the post.
According to News Brașov, which cites TVR, the men accuse that they were also beaten in the Police headquarters. The Gendarmerie announced that checks are being made related to the intervention of the Costineşti team and, if necessary, sanctions will follow.
There is also an official explanation for the fact that there was violence between gendarmes and tourists.
"When they arrived at the beach in Costinești, they faced extremely tense situations, with aggressive behavior from the people involved in the conflict. They rushed the gendarmes, threw sand at them, pulled their clothes, one of my colleagues had a torn uniform. They repeatedly threatened the law enforcement, they told them about their families that they would be followed, about them that they knew them and that they would be followed", Ana Maria Burghi, spokeswoman for the Romanian Gendarmerie, told TVR.
Read also: Ciolacu, appeal to the gendarmes and policemen on the beaches: Zero tolerance for bombers. You have my full support
Editor : I.C