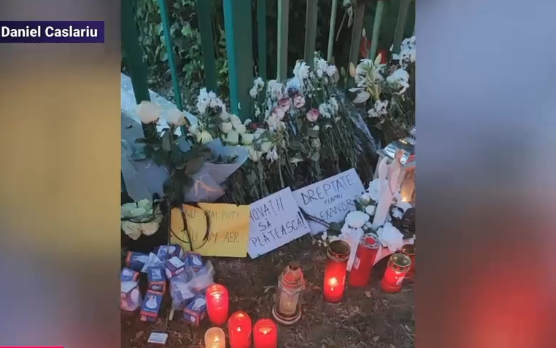 Hundreds of people gathered in front of the maternity hospital in Botoșani, for the third day in a row, demanding justice after Alexandra's death.
People protested against the doctors who would have left the 25-year-old to agonize for a whole night, until she died. People brought flowers and lit candles in memory of the young woman.
About a week ago, Alexandra arrived at the hospital with pain and bleeding. She was three months pregnant. After an infusion and a set of tests, she was reportedly ignored by doctors all night, despite texting them that she was in excruciating pain.
Forensic doctors determined that the young woman died from an infection caused by the aborted pregnancy.
The director of the Emergency County Hospital in Botoşani suspended the medical staff who were on duty the evening the woman arrived at the maternity hospital.
According to the preliminary report drawn up by DSP Botoșani, Alexandra did not benefit from medical care for almost seven hours. The young woman was hospitalized at 11:30 p.m. with "external genital bleeding, hypogastric and lumbar pains". The diagnosis established at admission was "suspended pregnancy, minor metrorrhagia, observation of secondary anemia". The health inspectors established that "from 00:45, when she was administered physiological serum and a medicine, until 07:35, no care maneuver was performed" for the young woman in question.
Editor : G.M.