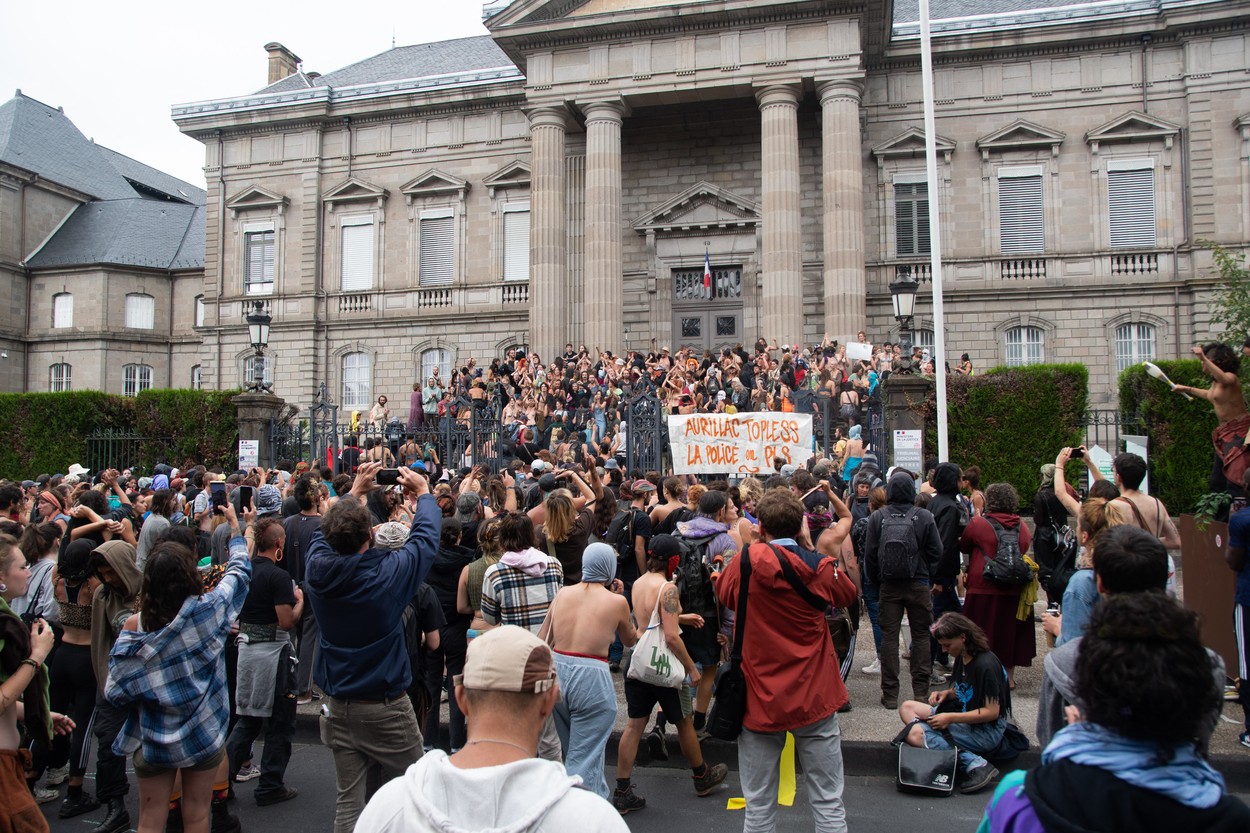 A thousand people took to the streets of the French city of Aurillac in the Cantal department on Saturday in solidarity with a woman who is being prosecuted after exposing her breasts in public, reports the website of the daily newspaper Le Figaro, according to Agerpres.
Numerous women marched topless through the city during this rally, organized on the sidelines of the International Street Theater Festival. The demonstration was organized to support Marina, a young woman targeted by criminal proceedings brought against her for "sexual exhibitionism" after walking bare-breasted on Wednesday in the streets of the French city.
On Thursday, she explained her gesture in front of the local media, saying that she was "very hot" and that she wanted to do the same "as half the men" present in the open air that day and who "were not wearing T-shirts". She was detained by the police after she refused to cover her upper body at their request.
In an initially relaxed atmosphere, the protesters crossed the streets of the center of Aurillac on Saturday afternoon. Videos shared on the social network X show the demonstrators chanting feminist slogans as well as against the Police. Arriving in front of the Palace of Justice, the crowd began to applaud in groups.
Then the protest degenerated. In front of the local Court, the demonstrators, some of whom wore masks, tore down several French flags and burned some of them. Others took advantage of the moment and entered the building, devastating its central hall. That group, composed of "approximately 10 individuals", also contributed to "the start of a fire, which was very quickly extinguished", according to a press release from the Prefecture, which "firmly condemned these destructions".
Calm was restored after Frederic Remy, the artistic director of Eclat, the association that organizes the Street Theater Festival, and the mayor of Aurillac, Pierre Mathonier, spoke. According to the local newspaper La Montagne, the representatives of the City Hall promised the young Marina that they would cancel the criminal ordinance against her for sexual exhibitionism.
Aurillac hosted the 36th edition of the International Street Theater Festival between August 23 and 26, a major event in the calendar of this sector of activity. Hundreds of artistic performances were organized on the streets of the French city and in a specially arranged tent. In 2016, a demonstration marked by violence, which was organized to protest the search of festival participants, caused strong emotions in Aurillac.
Editor : C.L.B.