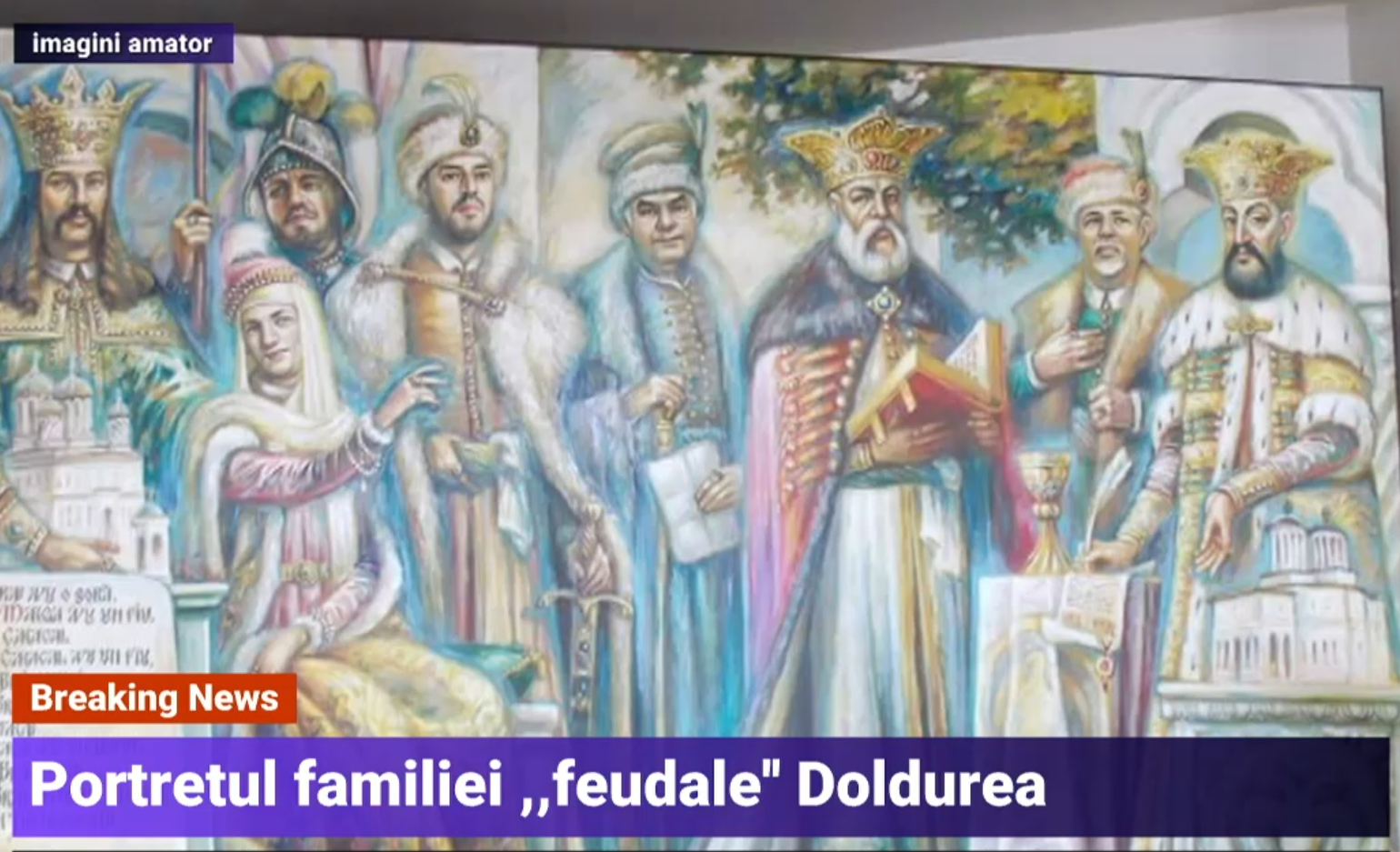 The figure of PSD mayor Ion Dordulea appears, next to that of his son, Ionuț Doldurea – the owner of the illegal LPG station where strong explosions took place on Saturday in Crevedia – in a painting with the dynasty of feudal rulers of the Basarab family, which includes Neagoe Basarab and Constantin Brancoveanu. The painting is in a restaurant owned by the politician's family in Caracal. At the same time, Ion Dordulea appears as one of the 7 biggest PSD donors in the 2020 election year, according to a document obtained by G4Media.
Cristian Citre, Digi24 journalist: The second male figure after Neagoe Basarab is actually a nephew of Neagoe Basarab and appears painted Ionuț Doldurea. To the left of Constantin Brâncoveanu is painted Ion Doldurea, as Constantin Brâncoveanu's uncle.
We see this need for historical legitimation. It is not the only case in "Dambovița" politics in which the local barons will be painted or represented in statues. I don't talk in church anymore. If they contributed a substantial amount to the foundation of a church, they are clearly painted there.
Mircea Cosma, former PSD baron of Prahova, was very offended by the title of "baron". He said he was a "count" because he had identified a 13th-century ancestry, a title of count that a certain Cosma, whom he said was an ancestor of his, had received. The politician said that he is a count because he is the president of the county council and "count" comes from "comitat", which would be the county. The baron would only be the mayor who ruled over a locality.
Cristian Pîrvulescu, political scientist: "These feudal networks litter Romania. They are inter-party and have only one interest: to have access to public and private resources. That's what's happening here too. Legitimacy is also gained historically.
The former president of the CJ Prahova told me in a discussion I had about 15 years ago in Brussels that he is a count, that he has an entry from a Hungarian list of counts that he is a descendant of a count, so he assumes this identity, because that allowed him to legitimize himself better with his subjects. This also happens at Caracal and in many parts. I was joking when I called them barons but they took their title of barons very seriously.
In reality, because there is no intense political activity in the small towns and in the countryside, we have quasi-feudal forms of organization that endure over time and that really pose great problems for the state, because the modern state cannot function with tribal groups, which try to simply take control of various resources.
It is about liquefied gas businesses that have meant tens of millions of lei in profit since Mr. Doldurea became mayor of Caracal, from 2020. So in 3 years, we are not only talking about the Crevedia point, but 3 or 4 companies that do business in this area, that also have contracts with the state, that is, with local authorities, with mayors who are not only PSD. I looked over the list. I saw many PNL mayors also from Ilfov, Teleorman, Prahova, Călăraşi, Olt. Such a mechanism also works on the basis of legitimation".
Ion Doldurea, among the biggest donors in the PSD
The mayor of Caracal stood out not only for his family's multimillion-euro businesses, but also for his donations to political parties. In 2020, the year he became mayor, he donated to the PSD above the minimum limit imposed by the party, write the journalists from G4Media. Ion Doldurea had transferred almost 29 thousand lei to the party's account.
Doldurea's name appears among the only 7 members in the country of this formation who chose to help PSD with larger amounts, being included in the reporting category "List of party members who paid contributions in 2020 whose total value exceeds the scale of 10 gross minimum basic wages per country". The document is signed by PSD president Marcel Ciolacu, according to G4Media.
Editor : A.C.