News culture The creators of Jujutsu Kaisen and Attack on Titan have a surprise in store for you, this new film will shock you
MAPPA is in 2023 on the roofs of Japanese animation. The studios are rolling out the expected projects – Jujutsu Kaisen, Vinland Saga, Chainsaw Man, Attack on Titan – and are even allowing themselves to produce a feature film intended for cinemas in parallel.
The new film from MAPPA studios
The MAPPA animated film that interests us today was announced more than two years ago (June 21, 2021) on the studios' YouTube channel, and fans' long wait is about to end. be rewarded, at least for Japanese spectators. Alice to Therese no Maboroshi Koujou (or simply Maboroshi in English) is an original production born from the imagination of its director and screenwriter Mari Okada (Maquia) and its team whose key positions are occupied by:
Assistant director: Tadashi Hiramatsu (Maquia: When the Promised Flower Blooms core director, JUJUTSU KAISEN)
Character Designer & Chief Animation Director: Yuriko Ishii (Maquia: When the Promised Flower Blooms)
Artistic director : Kazuki Higashiji (Maquia: When the Promised Flower Blooms)
Composer: Masaru Yokoyama (Horimiya)
Alice to Therese no Maboroshi Koujou sera screened in Japanese cinemas starting September 15, 2023. No information on distribution in the West and more particularly in France has yet been communicated. French fans of MAPPA studios and more generally of Japanese animated films will have to be patient. In the meantime, here is the synopsis of Maboroshi:
Masamune, a third-year middle school student, lives in a town where all exits have been blocked following a sudden explosion at a steel mill, causing time to stop. The residents are not allowed to change anything and spend their stifling days hoping to one day return to normal.

One day, Masamune's mysterious classmate Mutsumi guides him to the fifth furnace of the steelworks, where they meet a young girl who cannot speak and looks like a wild wolf. The meeting between the two girls and Masamune disrupts the balance of the world, and the irrepressible "rush of love" of boys and girls tired of their daily lives begins to destroy the world. -MyAnimeList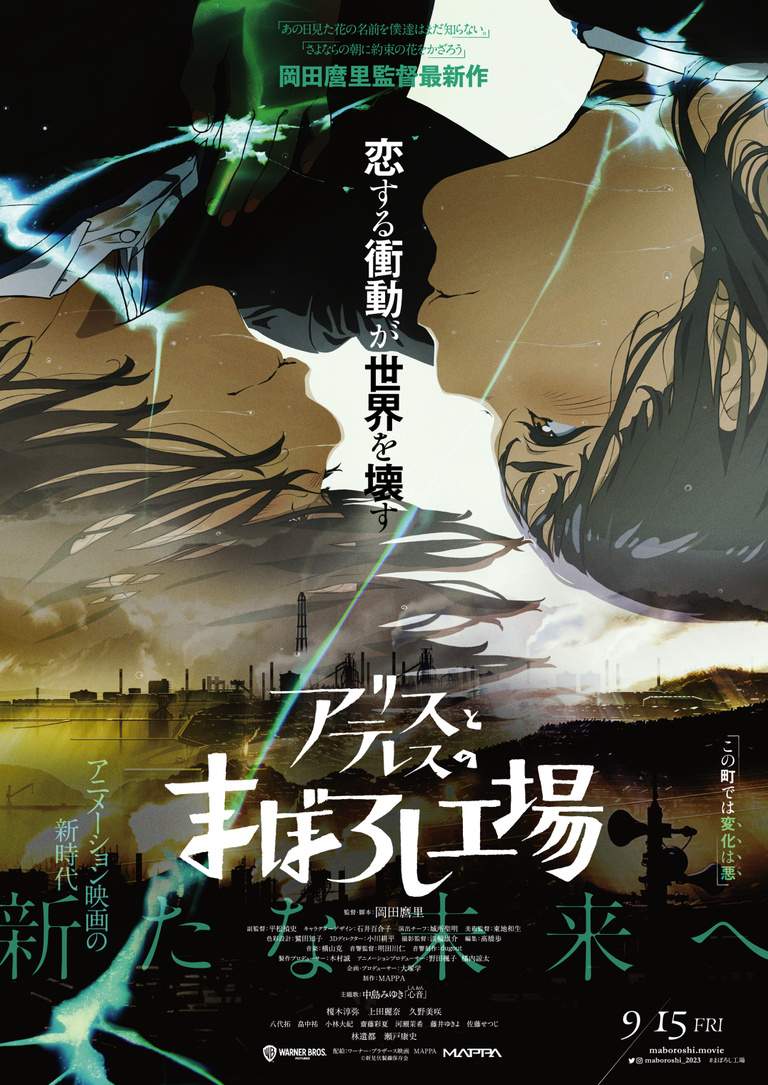 ---
MAPPA on the roofs of japanimation
MAPPA (for Maruyama Animation Produce Project Association) is a Japanese animation studio founded in 2011 by the former co-founder and producer of Madhouse (One Punch Man, No Guns Life, Overlord) which experienced unprecedented growth from 2020. The back-to-back releases of The God of High School, Jujutsu Kaisen (season 1), Attack on Titan (final season ), Chainsaw Man (season 1), Vinland Saga (season 2), Hell's Paradise: Jigokuraku (season 1) and Jujutsu Kaisen (season 2) have made him a key player. MAPPA dominates the world of Japanese animation in 2023 and intends to continue on this path with season 2 of Hell's Paradise and its Lazarus project produced in collaboration with the creators of John Wick and Cowboy Bebop.
---