News culture Season 2 of this fantastic anime as violent as Berserk will not be on Netflix or Crunchyroll
Criticized for its extreme torture scenes, this anime is back exclusively on the ADN platform.
We thought that it would also land on Crunchyroll and yet, season 2 of Goblin Slayer will first be offered exclusively on the ADN platform. The program thus joins the fall line up of the service. The release is scheduled for October 6 in Japan and should therefore be done on the same date in France in simulcast, for an episode broadcast every Friday for three months. The first two episodes will be shown in preview at the Grand Rex thanks to a partnership with All the Anime. So on September 29 at 8 p.m., some will be able to attend the broadcast of the film Goblin Slayer: Goblin's Crown, followed by episodes 1 and 2 of season 2.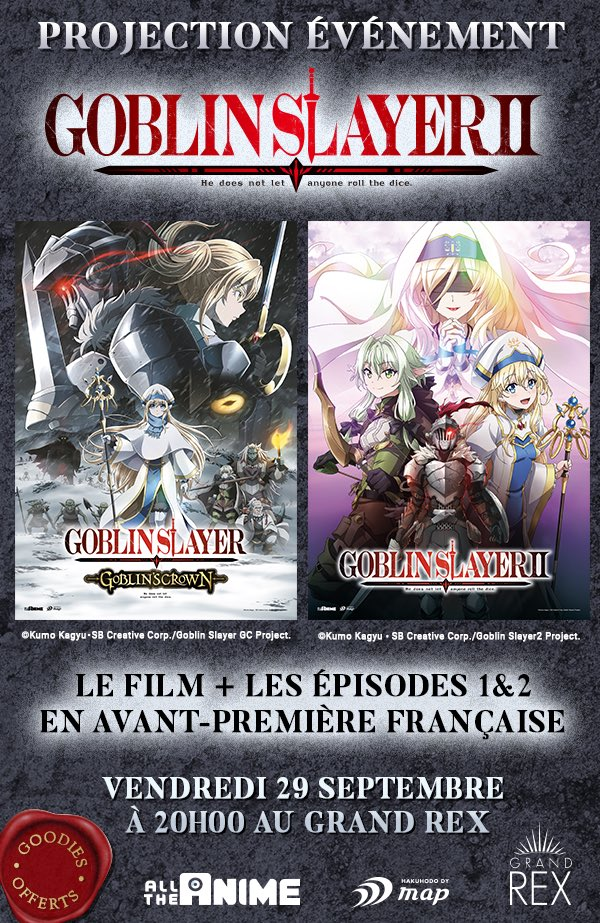 ---
A manga as popular as it is controversial
Much criticized upon its release for its violent content, the Goblin Slayer series sets its setting in a Dark Fantasy universe where many adventurers set out in search of wealth and glory. A warrior has only one idea in mind: the eradication of goblins, terribly cruel creatures. If season 1 was produced by White Fox, Liden Films will now produce the second season. The studio is responsible for Berserk, Tokyo Revengers, Call of the Night, and The Legendary Hero is Dead.
On the border, a member of the guild accomplished a feat like few are capable of: he became a knight of silver rank just by hunting goblins. The Priestess, a beginner adventurer, has barely embarked on her first adventure when she is already faced with mortal danger. A man comes to his rescue. It is called the Crève-gobelins. He exterminates the goblins by any means possible, without making any fuss. – Wakanim
As a reminder, this anime is originally a light novel written by Kumo Kagyu and illustrated by Noboru Kannatsuki. Goblin Slayer will be entitled to its anime in December 2018, piloted by White Fox"' (Steins;Gate, Re:Zero – Starting Life in Another World, Akame ga Kill!). There was also a movie, Goblin Slayer: Goblin's Crown (February 2020). The series has also had its share of controversies, notably due to its brutality: Goblin Slayer tells the story of a man who has made it his mission to destroy all goblins, with the latter only waiting to rape all those that they encounter.