News culture "He didn't want to do it" This actor who played Batman was hesitant to star in this Tim Burton film with Jenna Ortega
More than 30 years after the first part, this actor who also played Batman did not want to play in the sequel to a film directed by Tim Burton.
Beetlejuice returns for a second film after more than 30 years. In this second part, Winona Ryder and Michael Keaton reprise their roles as Lydia Deetz and the prankster ghost respectively. This is in a recent interview given to British Film Institute that Tim Burton, the director, admits that the actor did not want to reprise his role :
He didn't want to do it (at first, editor's note) – he didn't necessarily have a burning desire, but I have to say it was the most fun (…). I was shocked to see how easy it was for him to put (the character, editor's note) back in place. It was like a demonic possession.
Michael Keaton therefore reprises his role as Beetlejuice alongside Jenna Ortega, who plays Lydia Deetz's daughter. In addition, Tim Burton also stated that he wanted to keep the same soul as in the first opus in terms of design. During this same interview, he details that the team tried "to film it in the same spirit", that is to say without "digital effects" but with "puppets, ropes, wires and makeup ". Despite the lack of information on the project, the filmmaker revealed that there was only a day and a half of filming left before the writers' strike and that the feature film was "98.99%" finished. As a reminder, Beetlejuice 2 is expected for September 6, 2024.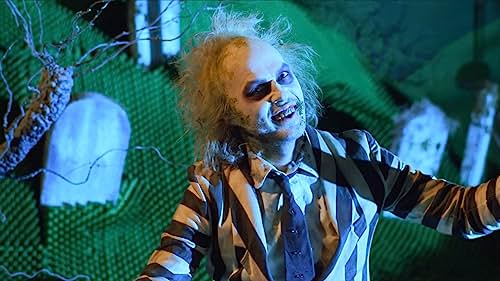 ---
Another iconic role from Michael Keaton
Aside from Beetlejuice, Michael Keaton also played the Dark Knight in Tim Burton's Batman. The actor has become one of the iconic faces of the superhero and also reprized the costume in The Flash released this year. The director explained the choice of this actor to play the Gotham City billionaire in an interview with The Hollywood Reporter :
Michael has such intensity that we say to ourselves: "Yes, I can see this guy wanting to dress up as a bat".
Although today Michael Keaton is considered one of the best Batman according to fans, at the time the criticism was very different. When Batman Returns was released in 1992, some had, in fact, mentioned a limited interest in the Dark Knight for Tim Burton.. To which, the latter responded that he "always had the impression that these people did not understand the essence of the Batman character".
---