We all learned, even from the first grades of school, what are the continents of the Earth. Sometimes we smirk if someone lists them incorrectly, in our opinion, based on what we've been taught. However, surprisingly, the number of continents on the globe is not something generally valid, but depends on where you live and where you were educated.
How many continents are there on Earth, actually?
The number of continents on Earth seems to us, like the multiplication table, something that is fixed to the one we have all learned since childhood. However, this is not really true everywhere in the world, it depends on where you live.
In the US, for example, students are generally told that there are 7 continents: North America, South America, Europe, Asia, Africa, Australia, and Antarctica.
On the other hand, in many countries in Europe, students are taught that there are only 6 continents: Europe, Asia, Africa, Australia/Oceania, Antarctica and America (which is treated as a single continent, without the distinction of "North" and " South").
Others might argue that there are even fewer continents. Some geographers argue that the distinction between Europe and Asia is arbitrary, based primarily on historical geopolitical realities and less on geographic ones.
A simple look at a world map shows us that Europe and Asia actually share the same piece of land, seemingly separated only by the Ural Mountains. Moreover, their histories and cultures have deeply intertwined over the centuries.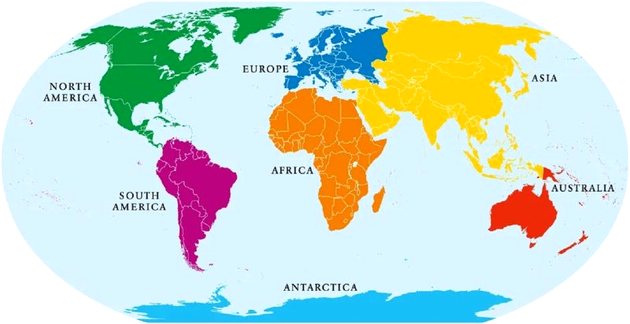 What controversy there is, the opinion of scientists
Some scholars believe that the definition of Europe as a continent is an invention of the elites, through which they wanted to highlight the exceptional nature of "the West" and its culture. So, they argue that Europe and Asia should be treated as one continent, Eurasia.
"Considering Europe and Asia to be the equivalent of separate continents was the 'touchstone' of the Western or Euro-American ethnocentric viewpoint.

On the other hand, the name Eurasia would correct this bias by emphasizing the intense interconnections of these territories over recent millennia," said Chris Hann, founding director of the Institute for Social Anthropology at the Max Planck Institute, in a 2016 paper.
According to Hann, the historian Marshall Hodgson goes even further, considering that Europe, Asia, but also Africa are part of the same complex continent: Afro-Eurasia.
After all, their surface can be completely traversed by land and is not fragmented by any sea or ocean, except for the Suez Canal in Egypt, which was built by humans and did not arise from any natural process of separation.
There is also a 5-continent model, also illustrated by the 5 circles on the Olympic flag, where each circle symbolizes each inhabited continent of the planet: Africa, Asia, America, Europe, and Oceania/Australia. It is not symbolized, in this case, Antarctica, where there are no permanent inhabitants.
The word "continent" comes from the Latin term "terra continens", which means "continuous land", uninterrupted and refers to very large areas of land.
It has often been suggested that these continents overlap the Earth's tectonic plates, but even this system of categorization presents problems.
If we go by this theory, then Eurasia does indeed form a single continent, but there are other "minor plates" but of considerable size that do not fit this idea, such as the Indian Plate.
In other words, even the most scientific definitions have a high degree of subjectivity and inconsistency.
"Actually, there's nothing really that determines the quality of a continent except historical conventions. There are exaggerations, of course, but in general these conventions are valid.

Certain factors have made it possible for a surface to be called, more or less, a continent, at different periods of history, by certain people, but nothing can be said to determine that this continentality is a complete principle", a Dan Montello, professor of geography at the University of California, told HowStuffWorks.

"There is basically no 'czar', no CEO of the continents, or any other supreme final authority that has the authority to give an absolute and definitive answer to this matter," Montello added.