Game news The new DOOM and Dishonored 3 on the run? Incredible revelations about the future of Bethesda games spread online
After Starfield, the next Bethesda games already revealed? We tell you everything about the games that leaked last night!
Microsoft has leaks!
You probably didn't miss the latest big news. On the night of September 18 to 19, Microsoft faced a huge leak, perhaps even the biggest in its history. Indeed, an official document dating from 2020 appeared on the web, which gave us an idea of ​​the future of the brand.
Thanks to this document, we learned in particular that the American manufacturer is currently working on a "hybrid game console" which could see the light of day in 2028. For more information, we can only advise you to go to the link below.
As you might expect, this isn't the only information Microsoft has leaked. The entire schedule of the manufacturer's next releases has also appeared on the web, and what we can see is that several Bethesda games could soon see the light of day.
---
TES VI, DOOM Year Zero, Dishonored 3… Everything about the future of Bethesda!
Before continuing, note that the schedule that we will display below was shared within Microsoft studios in 2020. There is therefore a good chance that the dates have changed slightly in the meantime. To give you an idea, in this schedule, Starfield was expected for 2021 and as you might expect, it only arrived on PC and Xbox Series X|S on September 6, 2023.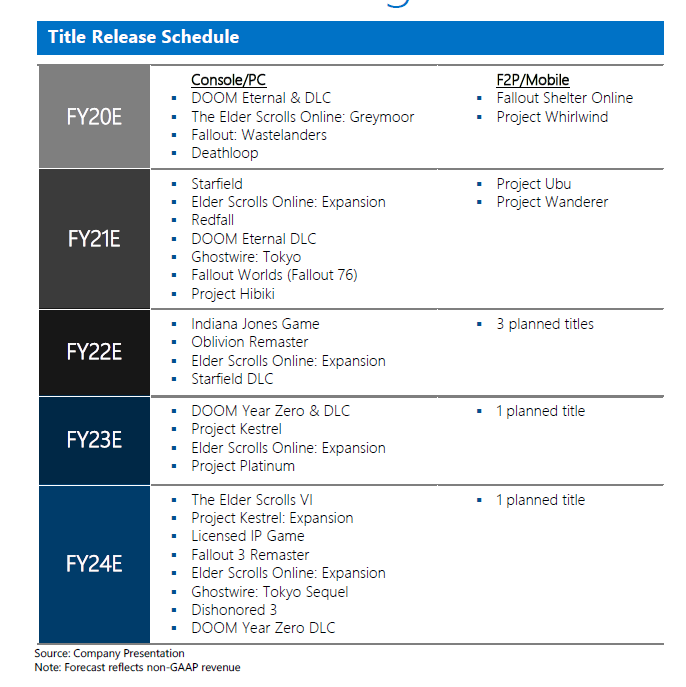 As you can see, according to this program, The Elder Scrolls VI is expected for 2024, or next year, which will obviously not happen. According to journalist Stephen Totilo, the game would not arrive before 2029. In other words, you will have to be patient.
But ultimately, the big information to remember from this leak is the appearance of several new projects, we are talking about a new DOOM, namely DOOM Year Zero which will also be entitled to DLC, but also Fallout 3 Remaster, Oblivion Remaster, and above all a brand new Dishonored.
A more than attractive program, especially since several projects could see the light of day quickly. We are thinking in particular of the remasters of Oblivion and Fallout 3. Initially, the first was to see the light of day in 2022 and the second in 2024.
---