Cameroonian Joyskim Dawa was racially insulted after being sent off in the match with Hermannstadt. After the scandal broke, Dawa's wife jumped to his defense and had a furious reaction to those who offended her partner.
Dawa's wife's exit to the setting
Last night, a few hours after being eliminated from the arrears with Hermannstadt, score 2-2, Dawa published some of the racial slurs he received as a result of the elimination and the penalty committed in the duel with the Sibians.
After the scandal broke, both he and his wife took a stand. Sofya started a real war with the supporters who offended Dawa, and in one of the messages she said that there are women in Romania who want to be with her partner.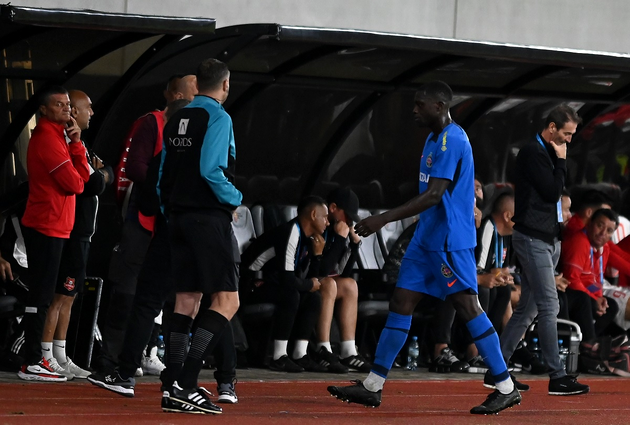 "Oh, and you'd do well to check who your girlfriends are texting, because it seems that Romanian girls would love to be with my "black man", said Sofya, in one of the messages on InstaStory.
"I will teach you why we are called AFRICANS"
In another post, Dawa's wife referred to the scandal that brought Romanian referee Sebastian Colțescu to the fore during the Champions League match between Istanbul Basaksehir and PSG. Then, the Romanian "central" called Pierre Webo "that black guy".
"This is how I will treat the next man who calls my man "black". I will teach you why we are called AFRICANS. This seems to be a big problem in your country. You better learn your lesson"Sofya also wrote.
In another message, Dawa's wife addressed those who insulted the FCSB defender with "damn racists".
"Stop calling my boy "black" and get a plane ticket to Zanzibar, you bloody racists. If you are not satisfied, become footballers or coaches, maybe you will be accepted in League 2″she said.
The action taken by the FRF in the case of Dawa
The FRF took a stand in the racist scandal and announced the first measure it resorted to: it notified the Ethics and Discipline Commission. He also emphasized that he does not agree with such behavior, because racism has no place in football.
"The FRF took note of the information published in the mass media and, given that one of the names circulated is Robert Stănici, a player playing at Cetate Turnu Măgurele, in League 3, the FRF administration notified the Ethics and Disciplinary Commission of the FRF. The Romanian Football Federation strongly condemns such behavior and reiterates that racism has no place in football". FRF transmitted, according to Gazeta Sporturilor.
After the draw with Hermannstadt, FCSB is in first place in the championship, with 22 points, three away from CFR Cluj.