News astuce Slowpoke Pokémon Scarlet & Purple: how to obtain all its evolutions?
In Pokémon Scarlet and Purple, you will undoubtedly have the chance to meet Slowpoke, the Goofy Pokémon from the first generation. And to complete your Pokédex, you will need to get your hands on its two evolutions, Flagadoss and Roigada. We will explain how to proceed.
For Ramoloss, it's the weekend every day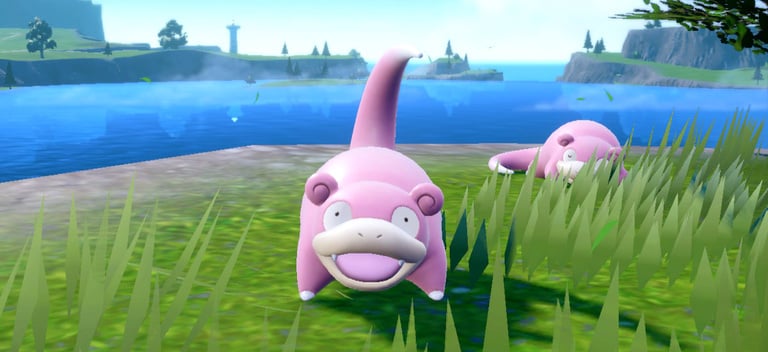 In Pokémon Scarlet and Purpleyou can capture up to 400 different species of Pokémon and save them to your Paldea Regional Pokédex. Among them, we find iconic creatures from previous generations, such as Corvaillus, Gardevoiret Marillbut also Pokémon specially designed for the ninth generation, like Briochien, Coldlyet Pohm. With the arrival of the DLC The buried treasure of Zone Zero: the Turquoise Maskthe most determined trainers will also be able to set about completing the Septentria Regional Pokédexwhich groups 200 specimens. However, a Pokémon that only appears in the base game's Pokédex is Ramolossthe Goofy Pokémon of the first generation.
In Pokémon Scarlet and Purplethis Pokémon and its evolutions, Flagadoss et Roigadacan be caught to complete the Pokédex from the Paldea region. Of type Eau et Psythis pink quadruped has the particularity of possessing two competing developments. In fact, we will have to choose between Flagadoss et Roigada before evolving your Ramolossand the methods to achieve this differ depending on the desired development. We explain to you:
Pokémon Scarlet/Purple walkthrough summary
Slowpoke in Pokémon Scarlet and Purple and its DLC
In the Paldea region of Pokémon Scarlet and Purpleyou will find Ramoloss the level of Lac Asrolbut also in the East zones n°1 and n°2the Zone Ouest n°2and in the Zone Sud n°5.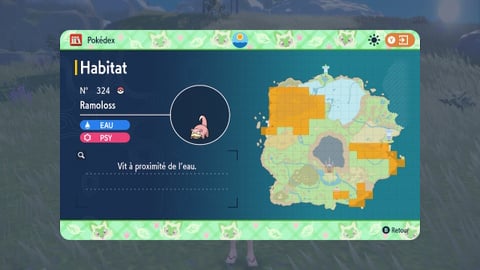 To get Flagadossthe Symbiosis Pokémon, just train your Ramoloss until reaching the level 37. From there, Ramoloss can evolve by itself Flagadoss. Also note that you can absolutely find Flagadoss in nature, and especially in Lac Asrolnear the Ramoloss who lounge there.
To get Roigada, the Royal Pokémon, the method is slightly more complex. You'll first need to get your hands on one Roche Royalewhich you can find with the help of our guide on the subject. Once this item is in your pocket, you will need to give it to your Ramoloss. This done, it will be necessary to carry out a exchange with a trusted person. THE Ramoloss will evolve into Roigada upon receipt, and you can get it back with another exchange. Please note, however, that if you are not able to make trades, it is possible to use the application Home to transfer it to your backup Pokémon Sparkling Diamond and Sparkling Pearland use the same process to recover it in Pokémon Scarlet and Purple.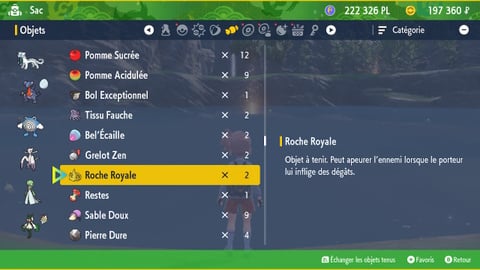 And you, will you add Flagadoss or Roigada to your team? And what Pokémon do you think are essential for a balanced team? Tell us everything in the comments!
Pokémon Scarlet/Purple walkthrough summary