Peoples Temple leader Jim Jones has promised his followers a utopia. Instead, it led more than 900 people to certain death.
In 1978, the world learned that more than 900 people in Guyana had died in a mass "suicide" apparently ordered by Peoples Temple cult leader Jim Jones.
In the weeks that followed, gruesome details emerged about the Jonestown massacre, as well as new information about the man who orchestrated it.
Jones spent his life ostensibly fighting racism, although many of his followers who died at his command were black. Jones claimed to be a Christian but used his influence to spread Marxist ideas.
He equally ostensibly defended the poor and helpless and lured hundreds of vulnerable people to their deaths. Perhaps the most horrifying thing was that many of these followers did not want to die, but were forced to consume the poison against their will.
So how did Jones go from a poor boy from Indiana to a dangerous cult leader?
Jim Jones, from his early days
Born on May 13, 1931 in Crete, Indiana, James Warren Jones grew up near Lynn, a small, poor town where nearly half the businesses were dedicated to the funeral industry.
Jones' father had been gassed while fighting in the First World War, an unfortunate event that left him permanently disabled, and his mother was domineering and critical.
"I wasn't given love, I didn't know what the hell love was," Jones later said of his childhood, according to PBS.
Jones claimed he had a tumultuous childhood and that his father often beat him, once for bringing home a black friend, for example.
Unsupervised, Jones apparently spent most of his time learning about different religions. A neighbor took Jones under her wing and began taking him to church, which furthered his interest in Christianity.
The young man began working the night shift at Memorial Hospital in Richmond at the age of 16, where he met his future wife, Marceline "Marcie" Boswell.
The two married just after Jones turned 18, sharing a love of religion.
Jim Jones and the Peoples Temple Cult
After the wedding, Jim Jones abandoned his dream of being a doctor and decided to become a preacher instead.
According to The Guardian, he wasn't necessarily very religious, but he believed he could use religion to spread his Marxist beliefs to the masses.
He became pastor of the Somerset Methodist Church in 1952, although he despised the church's racial segregation.
A few years later, in 1955, Jones opened an integrated church, which was first called Wings of Deliverance and then Peoples Temple.
He modeled himself after Father Divine, a charismatic black pastor whose followers worshiped him as a god. Jones would soon begin to describe himself as a Messiah.
While preaching in Indiana, Jim Jones became known both for his support of the poor and for claiming to work miracles.
He is said to have used gruesome props such as animal entrails to "prove" that he cured his followers of cancer.
He had also begun sleeping with many young women in his congregation, despite being married. With his wife, he had a biological son and adopted six more black, white, and Korean children.
In the mid-1960s, Jones moved his congregation of about 70 families to northern California after warning them of an "imminent" thermonuclear war.
"There was a time when if you were running for office in San Francisco it was good to have Jones' support," said Corey Buscher, a former press secretary.
It was not what it claimed to be
It didn't take long for him to forbid the members of his cult from having sexual intercourse with each other. At the same time, he could sleep with absolutely anyone in the "church", be it man, woman or child.
Moreover, he "drained" his followers of their life savings, threatened and blackmailed them when the situation "called for it".
"Punishment has become normal," Yulanda Williams, a former member of Peoples Temple, told ABC News. "His behavior became totally irrational."
By the mid-1970s, rumors of Jones' inappropriate and abusive behavior began to multiply.
So Jim Jones moved his congregation to Guyana, which would soon be known as "Jonestown".
There, he preached to the people about dark, outer forces and ran the compound as a prison camp. No one was going in, no one was going out.
The New York Times reports that in April 1977, family members of Jones' followers accused him of "human rights violations."
In June, two former members of Peoples Temple alleged that it was forcing its followers to rehearse for a "mass suicide".
Leo J. Ryan, US Congressman, among Jim Jones' victims
These claims eventually caught the attention of U.S. Congressman Leo J. Ryan, especially since some of his constituents in San Francisco were followers of Jones.
On November 17, 1978, Ryan flew to Guyana with a delegation of staff members, reporters and concerned relatives of Peoples Temple members to investigate the situation.
Ryan and his delegation were initially warmly received in Jonestown. Jones spoke to reporters, and Ryan and the others were actually treated humanely.
Some members of the Peoples Temple still wanted to leave the compound, and Ryan and his delegation escorted them to the airstrip in Port Kaituma just a day after their arrival.
Unfortunately, Ryan, his delegation, and the Peoples Temple defectors were ambushed by some of Jones' armed followers.
Ryan, NBC correspondent Don Harris, NBC cameraman Bob Brown, San Francisco Examiner photographer Greg Robinson and Peoples Temple defector Patricia Parks were shot and killed.
Back at the compound, Jones put his "revolutionary suicide" plan into action, starting with about 300 children and continuing with the others.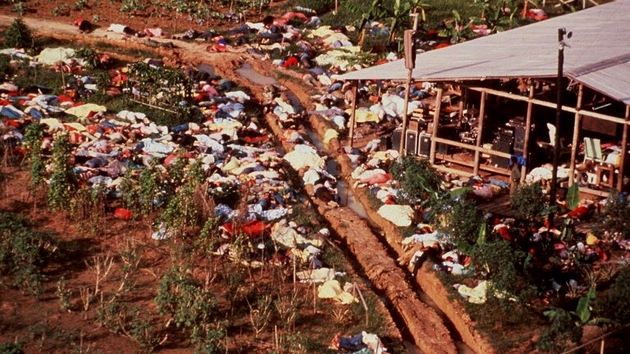 The Jonestown Massacre
The next day, Guyanese officials discovered the horrific consequences of the Jonestown massacre.
More than 900 people lay dead, including Jones, his wife and most of his children. Unlike most of his followers, Jones had not consumed the poison, but shot himself in the head.
"You have to remember that it all started in the 60s and 70s. Our society was insecure. It was constant aggression. There were riots," former Peoples Temple member Thom Bogue told ABC News. "And then along comes Jim Jones who says, 'This is your place.'