Game news EA Sports FC 24: As his team begins the (real) Champions League, this pro player prefers to play it on his console
EA Sports FC 24 is surely one of the most popular football games on the planet. Many professional players enjoy starting a few games from time to time, or even are addicted to the game. The problem is that sometimes they play at rather annoying times!
Jadon Sancho, a complicated situation at Manchester United!
A few years ago, a similar problem arose, this time in the NBA. David Fizdale, coach of the New York Knicks team, complained that his players were spending sleepless nights on Fortnite and arriving sleep deprived at practice the next day. In his wordsFortnite had then become his "main opponent of the moment".
This time, it is not in basketball that a game is raising eyebrows, but on the football side where Jadon Sancho, player for the Manchester United team, was reportedly seen playing at EA Sports FC 24 yesterday as his team entered the Champions League.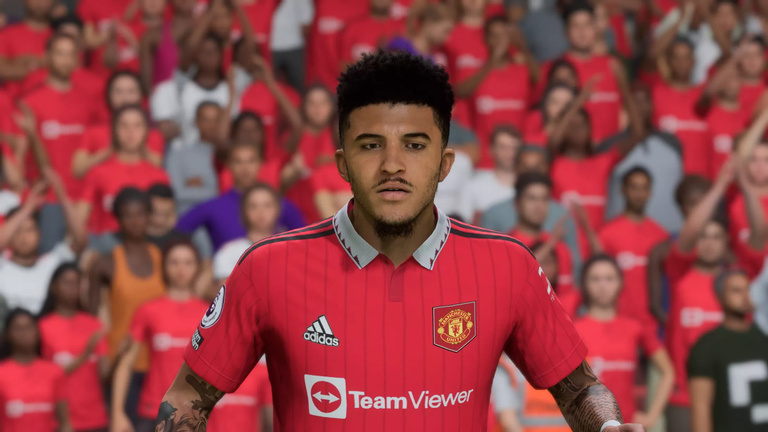 But then why wasn't he with her? Well, this is precisely where the story gets complicated for the young Englishman. Indeed, if he was not traveling for this first match, it was quite simply because he had been suspended for disciplinary reasons by the club.
The last episode of a more than eventful summer for Jadon Sancho and the Red Devils. Arrived for no less than 85 million euros from Borussia Dortmund in 2021, he was asked to find a base this summer, but without success.
So, if in its press release Manchester United does not go into detail on the precise reasons which pushed the club to put him aside, it could be that the story we are going to tell you adds fuel to a fire that is already well fueled!
ℹ️ The club clarifies the current situation with Jadon Sancho.#MUFC

— Manchester United (@ManUtd) September 14, 2023
When his teammates play the Champions League, he plays EA Sports FC 24!
What ignited the powder was the image that you can find below. We see a group of EA Sports FC players, including two who can be recognized quite easily thanks to their pseudonymsTammy Abraham of Roma and Jadon Sancho of Manchester United.
Besides, it's not really a secret that Jadon Sancho was in the group that day, since the streamer JCC had even indicated in his live announcement tweet that the Manchester United player was going to join him for a few games.
But then, why is it the latter and not Tammy Abraham for example who is under fire from critics? Well because unlike the Roma player, Sancho's club was playing an already important Champions League match that evening.
Granted, he was sidelined and didn't really have an obligation to watch the game. However, I'm not sure that after everything we've just told you about his behavioral problems, Manchester United are fans of the image sent back by the player!