Game news Sony on alert! A group of hackers would have bypassed "all systems" and have already made their first victims
This is information that comes late, but is important to report. After suffering a huge hack a few years ago, Sony was once again the target of hackers.
PS5 data and more in the wild?
The information came early this evening and requires confirmation, but it seems that a group of hackers called Ransomed.vc hacked Sony's servers, claiming to have bypassed "all systems." For the moment, we are "only" talking about 6,000 files, but Cyber ​​Security Connect reports that this new ransomware has "caused an impressive number of victims" since it appeared last month. To emphasize that they will stop at nothing, the group of pirates released a message that says a lot about their intentions:
We managed to compromise all of Sony's systems. We will not demand any ransom. We will sell the data. Because Sony doesn't want to pay. Data is for sale. WE SELL THEM.
This is essentially the message circulating on the web currently. Even if the evidence (internal connection screenshot, internal PowerPoint presentation, etc.) seems unconvincing at the moment, we would only strongly advise you to activate at least the two-factor security of your PlayStation account (and change the password if it is considered too easy to flush out). The hackers have in fact given Sony a deadline. If nothing is done by September 28, the group will publish all the data on the web.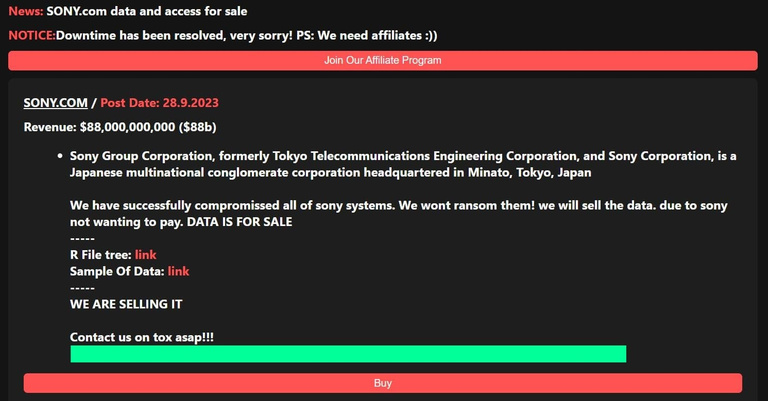 Sony already targeted
Even if it seems, for the moment, unconvincing, this case is reminiscent of the cyberattack suffered by Sony in 2017. During this data theft, no less than 77 million PlayStation Network users were impacted. The files were revealed on the web and the PlayStation online service was taken offline for almost a month, while Sony teams reinforced all the security of their system. Some will say that this may be meaningless talk, but in cases like this, we can never be careful enough. We are currently talking about 6,000 pieces of data, which may not seem like much compared to the number of subscribers to the service, but imagine that you are on this famous list… Prevention is better than cure.