News culture After One Piece, Avatar arrives on Netflix as a Live Action series. 14 years before, the saga had experienced a bitter failure in the cinema
It is customary to rail, or even rebel, against projects to adapt animated series into films or live-action series. And it was difficult to prove the fans who were a little too passionate wrong as the result rarely lived up to the source material. But things have changed… proof of this is the Live Action One Piece series recently broadcast on Netflix. The SVOD service is now interested in another fantastic universe, adapted for the first time in cinema. An indoor experience that many would like to forget.
Avatar, the Netflix series
Avatar: The Last Airbender is the origin a fantasy animated series produced by Nickelodeon Animation Studio and broadcast between 2005 and 2008 on North American TV. Created by Michael Dante DiMartino and Bryan Konietzko, Avatar arrived in France 2 years later (in January 2007) on Game One and was a great success. With 3 seasons for a total of 61 episodes, Avatar: The Last Airbender from its original title is adapted into a Live Action film by the master of narrative twists… M. Night Shyamalan (Sixth Sense, Unbreakable, Split, Knock at the Cabin) .
The feature film was officially released in cinemas in 2010 and was quickly criticized both by fans of the animated series who criticized it for its lack of fidelity and by moviegoers who found no characteristic features of the American filmmaker. To fully understand the scale of the disaster, The Last Airbender boasts a scathing 5% score from critics on RottenTomatoes (user score is 30%). With a budget of 150 million dollars, the film still brought in 319.7 million at the box office. This film was to launch a trilogy. The project will ultimately be abandoned.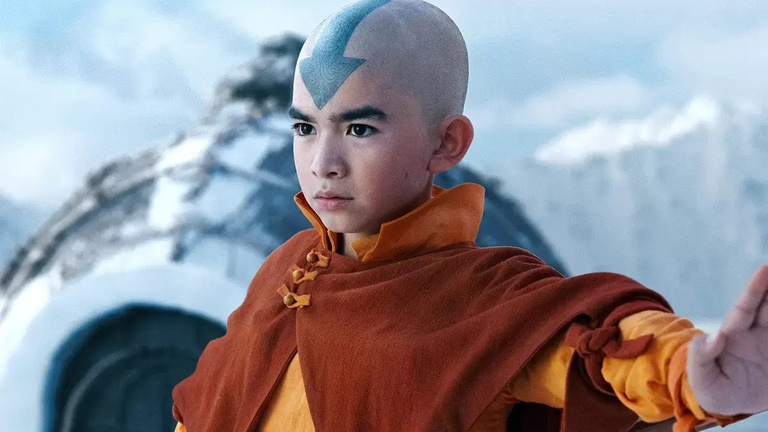 Netflix, which has recently capitalized on live-action adaptations of major licenses from Japanese animation and video games, is also setting its sights on Avatar, the Last Airbender. A series is currently in production and is expected to be released in 2024 according to the teaser released on YouTube on June 18. Created by Albert Kim (Leverage, Nikita, Sleepy Hollow), this new Live Action adaptation takes up the original synopsis and promises to follow the animated series as faithfully as possible:
The nations of Water, Earth, Fire and Air lived in harmony… until one day everything changed. A live-action adaptation of Aang's story. -Netflix
The cast of the Avatar The Last Airbender series on Netflix:
Gordon Cormier (Lost in Space): Aang
Kiawentiio Tarbell : Katara
Ian Ousley (13 Reasons Why, Big Shot) : Sokka
Dallas Liu (Shang-Chi and the Legend of the Ten Rings): Prince Zuko
Paul Sun-Hyung Lee (Ahsoka, The Mandalorian) : Uncle Iroh
Elizabeth Yu : Azula
Daniel Dae Kim (Divergent 2 Insurrection, Lost The Missing): Fire Lord Ozai
All 3 seasons of the animated series Avatar: The Last Airbender are available on Netflix.
---