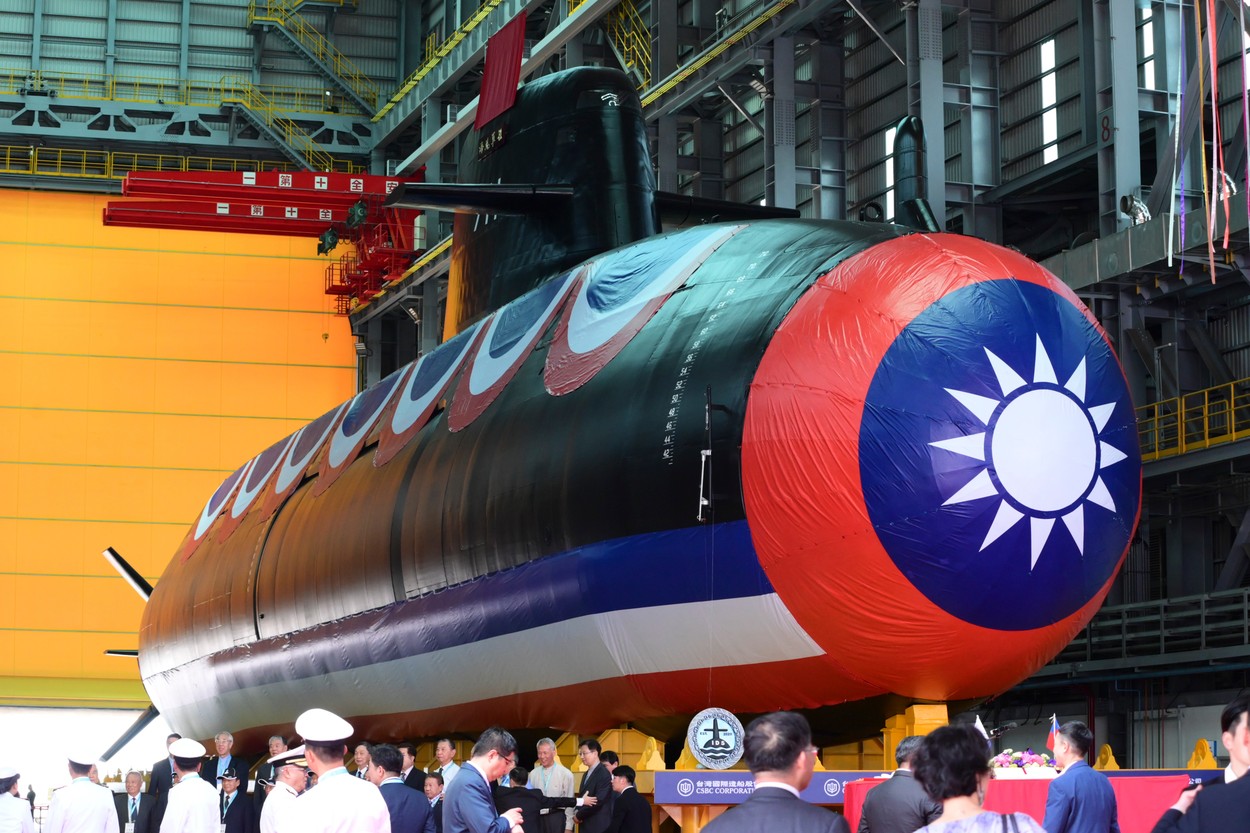 Taiwan has officially unveiled its first domestically-made submarine. The Haikun, named after a mythical fish from classical Chinese literature, is just the first submarine in the country's plans to have a fleet of 10 and will be delivered to the navy by the end of 2024, the BBC reports.
President Tsai Ing-wen presided over the launching ceremony of Taiwan's first submarine in the port city of Kaohsiung on Thursday. The Taiwanese are in the process of strengthening their defenses after US officials warned that China could be militarily capable of mounting an invasion in the next few years.
Taiwan is an autonomous island that China considers a renegade province and has promised to reclaim it one day. But most observers believe China will not attack the island imminently, and Beijing has said it is pursuing peaceful "reunification" with Taiwan. But at the same time, he warned against the official declaration of Taiwan's independence and any foreign support. In addition, China has increasingly sought to exert pressure on the island through its military exercises in the Taiwan Strait, including this month.
"History will forever remember this day"
"History will forever remember this day," President Tsai said as she stood in front of the submarine covered in her country's flag emblem. She added that the idea of ​​a domestically manufactured submarine had previously been considered "an impossible task… but we did it".
The $1.54 billion submarine, powered by a diesel-electric engine, will undergo several tests and be delivered to the Navy by the end of 2024, according to military officials.
It was named Haikun after a massive mythical fish that can fly that appears in classical Chinese literature.
Taiwan is preparing a fleet of 10 submarines
Another submarine is currently in production. Taiwan aims to eventually operate a fleet of 10 submarines, including two older Dutch-built boats, and equip them with missiles.
The head of the domestic submarine program, Admiral Huang Shu-kuang, told reporters last week that the aim was to head off any attempt by China to encircle Taiwan for an invasion or impose a naval blockade. It would also buy time until US and Japanese forces arrive to help defend Taiwan, he added.
Building its own submarines has long been a key priority for Taiwan's leaders, but the program has accelerated under Ms Tsai, who has boosted military spending to nearly double the budget so far during her tenure.
China has yet to give an official response. But in an article published earlier this week, state media publication Global Times said Taiwan was "daydreaming" and that the plan was "just an illusion". It also claimed that China's military "has already built a multi-dimensional anti-submarine network around the island".
Observers agree that the new submarines could help boost Taiwan's defenses
Taiwan's fleet of 10 submarines would pale in comparison to China's, which is said to currently comprise more than 60 vessels, including nuclear-powered attack submarines, with more on the way.
But the island has long pursued an asymmetric warfare strategy, in which it aims to build a more agile defense force to face a larger and well-resourced enemy.
The submarines could "help Taiwan's relatively small navy take the initiative against China's large naval forces" by conducting "guerrilla-style warfare with lethal and surprising elements," noted William Chung, a military researcher at the Defense and Security Research Institute. National in Taiwan.
In particular, he said, they could help by guarding the various straits and channels linking the so-called "first island chain," a network of islands that includes Taiwan, the Philippines and Japan seen as a possible battlefront for any conflict with China. Anti-submarine warfare remains "the weakest part of the Chinese navy, and this is the chance for Taiwan to exploit," he added.
But the "center of gravity" of any China-Taiwan naval conflict would likely not be in the deep waters off the island's east coast, where submarines would be most effective, pointed out Drew Thompson, visiting senior research fellow at the National University of Singapore and former US Department of Defense official. Instead, the main theater of war would be in the shallower waters of the west coast facing mainland China.
"The submarine is not optimized for a counter-invasion role … having this increased capability to complicate China's military operations would have an effect, but not a decisive one," he said. Their effectiveness would largely depend on how Taiwan chooses to implement them.
Beyond playing a deterrent role, they could also be used to ambush Chinese ships, conduct mining operations in Chinese ports, disrupt oil supplies and destroy key facilities on the Chinese coast, according to Chieh Chung, a researcher in defense at the Taiwan National Policy Foundation.
What is significant, however, is that Taiwan was able to design and build its own submarine in the first place.
The Haikun will be equipped with a US-made combat system and missiles
The Haikun uses a combat system from US defense company Lockheed Martin and will carry US-made missiles. While this may come as no surprise given that the US is Taiwan's main ally, at least six other countries, including Britain, have come to Taiwan's aid in providing components, technology and talent, according to a Reuters report.
Adm. Huang told Nikkei Asia that he personally approached military contacts in the US, Japan, South Korea and India for help, but did not say which country ultimately agreed. That several countries and companies "were not afraid to supply parts for Taiwan's landmark defense program … indicates a significant geopolitical shift." It is indicative of the "doubt and dissatisfaction" with Beijing felt by some in the international community and "should worry China," Chieh added.
The launch comes a day after Beijing confirmed it had conducted military exercises this month to "resolutely combat the arrogance of Taiwan's independence separatist forces".
In recent weeks, China has again stepped up its warship presence in the Taiwan Strait and military aircraft incursions into the airspace around the island.
US military and intelligence officials have offered different timelines for a possible Chinese invasion.
A recently floated date is 2027, with Chinese President Xi Jinping believed to have told his military to be operationally capable of staging an invasion by that year. But CIA director William Burns also said it did not necessarily mean Xi would decide to invade then, as he is believed to have doubts about China's success.
Editor : M.I.