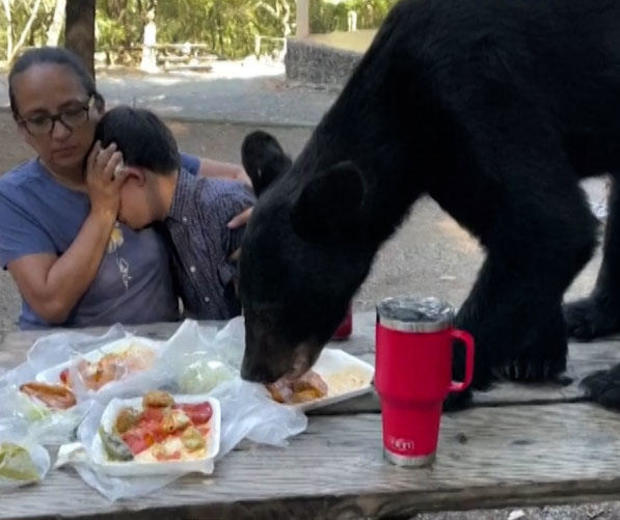 A Mexican family managed to keep calm and sit still as a black bear interrupted their birthday picnic by jumping on the table and devouring their lunch.
In a video that went viral on social media, Silvia Macías is seen holding her son close to her chest and covering his eyes with her hand just inches away from the bear calmly devouring their food, according to CBS News.
Macías, who is from Mexico City, went with her family to Chipinque Park on the outskirts of Monterrey to celebrate the birthday of her son Santiago, who has Down syndrome.
Shortly after they sat down to picnic in a specially designed area, the black bear appeared out of nowhere, jumped on the table and started eating their food. In the video shot by Angela Chapa, a family friend, Silvia can be seen struggling to keep her composure as she stands inches from the bear's mouth while hugging Santiago to her chest and covering his eyes.
She said she covered her son's eyes, and she tried to look away to avoid any gesture the bear might have taken as a challenge.
"Santiago could get scared. He is very afraid of any animal, even a cat or a dog", the woman said in an interview with The Associated Press. "That's why I covered his eyes, because I didn't want him to see it and scream or run away. I was afraid that if he got scared or screamed the bear might react", said the woman.
Macías said he knew that the park was occasionally visited by bears, but that they usually show up in the early morning or evening, not at noon, when it is visited by many people. However, he also prepared for this possibility and told the children that they would play in the park "of the statues".
"We're going to play a game where we cover Santiago's eyes and act like statues," he told the kids before they got to the park. And that's exactly what they did: Santiago remained still, though "the bear was very close to us, I heard him growling, while he was eating and I could smell him."
After he had finished eating as much as he liked, the bear jumped off the table and ran into the woods in the direction Angela had thrown her portion of food.
With a population of approximately 600,000, the black bear is an endemic species in North America.
Editor : D.C.