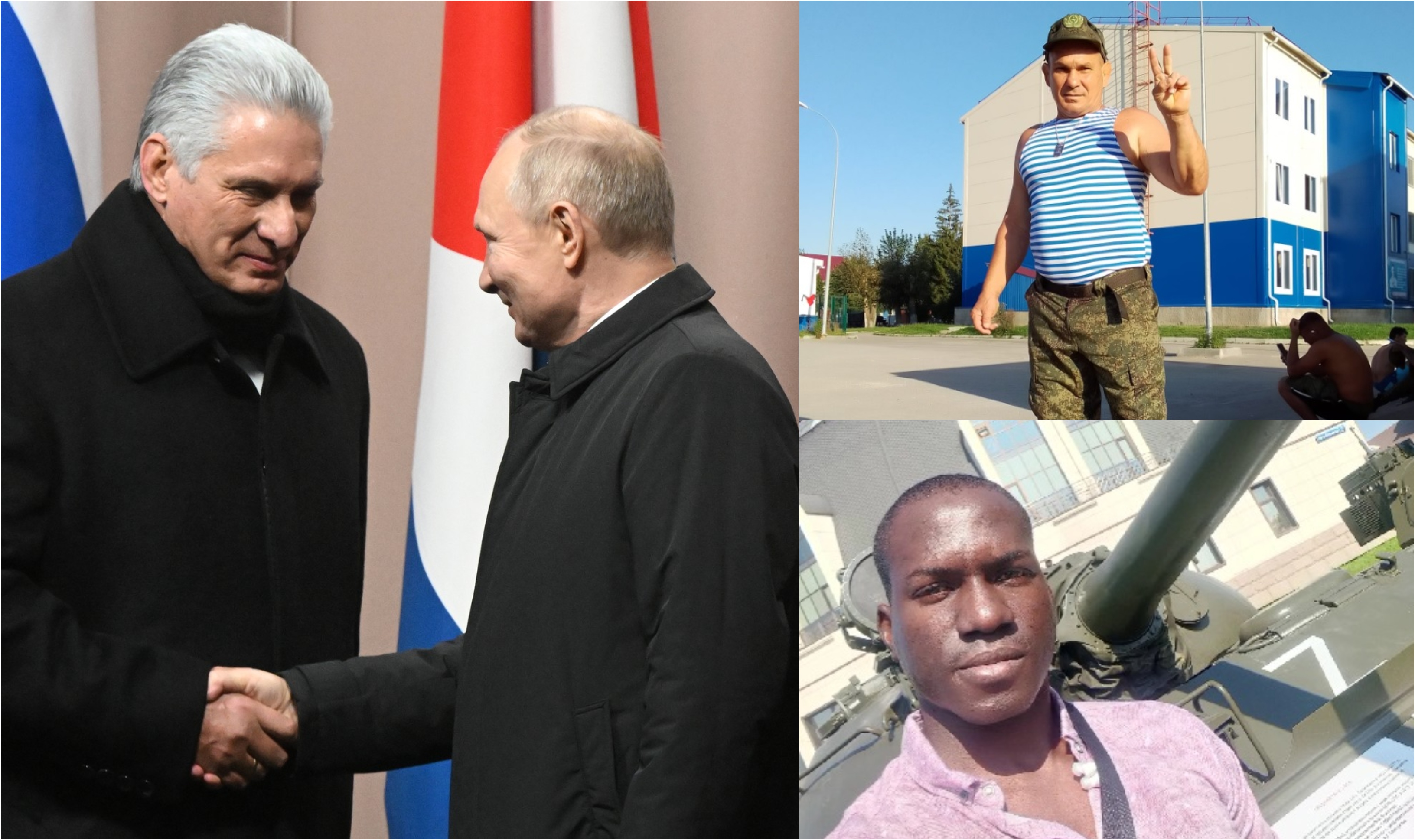 News of Cubans fighting on Russia's side in Ukraine made headlines this month after Havana announced it had arrested 17 people in a human trafficking ring recruiting young men for the Russian military, Politico writes. Conversations with Cubans in Cuba and Russia reveal a completely different side of this story.
What Cesar really wanted was to get out of Cuba. Working as a bartender in Havana he could barely make ends meet, and last year he tried to reach Miami on a rickety boat, but was forced to abandon the plan when he was intercepted by the US Coast Guard.
Now, the first step in his second escape attempt is a direct flight to Moscow. The ticket is paid for by the person in Russia who recruited him, but the price Cesar pays is much higher: he will have to join the Russian army in the war in Ukraine.
"If this is the sacrifice I have to make for the good of my family, I will make it," said Cesar, who will turn 19 this year.
"You can be a nuclear physicist and still starve here. With my current salary I can barely afford basic things like toilet paper or milk," said Cesar, who hopes the Russians will let him work as a paramedic.
For young Cubans on the brink of desperation, being drafted into the Russian army appears to be their best chance for a better life – although not all of them realize the consequences of their choice.
"The Devil Gives No Sweets"
One of the recruits, a 40-year-old Cuban now in the Russian city of Tula, said he was promised work as a driver transporting "workers and construction materials" but when he arrived in Russia he was immediately trained for fighting with a weapon in hand.
"I signed a contract with the devil," he said, recalling the moment he enlisted. "And the devil doesn't hand out sweets."
Until recently, Havana – although it officially has a position of neutrality towards Ukraine – did not try to hide that it is on the side of Moscow in its fight against the "Yankee empire". The Castro regime is dependent on cheap fuel and other aid from Russia, but unlike other countries such as North Korea, it has very little to offer in exchange other than diplomatic loyalty.
The takedown operation by Cuban authorities came after a YouTube interview was published in late August in which two 19-year-old Cubans claimed they were lured to Russia with well-paid construction jobs, only to be sent then in the trenches of Ukraine.
They said they were beaten, cheated, and lost all their money, and now they were being held there by force.
The recruitment of Cubans through unofficial channels appears to have "touched a nerve" in Havana, according to Chatham House researcher Christopher Sabatini. "Cuba and the Soviet Union fought shoulder to shoulder in Angola and other places, but for ideological reasons." Now, this partnership has only "a transactional quality that runs counter to decades of friendship" between the two countries.
Russia gives Russian passports to new recruits, even after only a few months in Russia. After suffering heavy losses in Ukraine, Russia "needs cannon fodder," according to Pavel Luzin, a researcher at the Center for European Policy Analysis (CEPA), who noted that most foreign recruits come from Central Asia, Africa, Syria and Afghanistan.
"Without speaking the language [rusă]without knowing the local terrain and without proper training for modern warfare, they will be killed quickly," Luzin said.
"I came here to give my children a better life, not to kill"
For most Cubans who enlisted in the Russian military, their involvement began in late 2022, when someone using the name Elena Shuvalova began posting on social media messages of interest to Cubans who want to go abroad or who are already in Russia.
In exchange for a one-year contract with the Russian military, the Cubans were offered a monthly salary of 200,000 rubles ($2,100) and an additional $2,000 enlistment bonus, as well as "help" in passing Russian language exams, medical tests and "quick legalization in two days".
Although all the recruits interviewed by Politico knew they would join the Russian military, they were assured they would work far from the front lines as drivers or construction workers, building fortifications or helping rebuild cities.
After arriving in Moscow and being made to sign contracts with the Russian Ministry of Defense, some of the recruits joined a military unit in Ryazan, but most were transferred to the 106th Airborne Division, based in Tula, near Moscow.
This division participated in some of the bloodiest battles in Ukraine. Kiev claims that the division was largely turned into "fertilizer" in the early days of the invasion when it tried to capture Kiev.
In recent months, the division has been stationed around the towns of Soledar and Bahmut, where heavy fighting continues.
"When they handed us the uniforms and told us to go and train we realized it wasn't about any kind of construction," said one of the recruits. However, it was too late to back down.
"Once you sign the contract, desertion is tantamount to treason," said a well-known lawyer among the Cuban community in Russia.
"I came here to give my children a better life, not to kill," said Pedro, one of the Cuban recruits who now lives in Tula, breaking down in tears. "I won't fire a single bullet."
The man said he thought about trying to escape, but didn't know where to run.
"No one put a gun to their heads"
It is not known for sure how many Cubans have joined the Russian military, but recruits interviewed by Politico said around 140 are now in Tula. A caller to a Spanish-language television station in Miami this month said about 90 Cubans were under his command in Ryazan.
From the documents that would belong to the Cuban recruits, made public and obtained by a Ukrainian website, it appears that those who joined the Russian army are between the ages of 19 and 69.
Not all Cubans recruited by the Russian military were tricked into participating in the war in Ukraine. In pictures published online, many of them appear proud to wear their military gear and weapons.
"Nobody put a gun to their head," said Yoenni Vega Gonzalez, a 36-year-old Cuban immigrant who lives in Russia. "The contract clearly states that you are going to war, not to play ball or hang out."
Gonzalez said he was not accepted into the Russian army because he did not speak Russian. "Otherwise I would have marched to the front with pride and head held high."
Testimonies of Cubans who train in military bases in Russia sometimes differ drastically. Some say their interactions with the Russians are friendly and the atmosphere relaxed, while staff who say they were duped complain they were not paid and threatened with prison if they did not follow orders.
Asked about the moral consequences of his decision to go to war alongside Russian soldiers, one of the recruits from Tula said it was not a major concern for him: "This is the way we found to get out of Cuba. No one here wants to kill anyone, but we don't want to die either."
Editor: Raul Nețoiu