FCSB lost the first points of this championship at home in the match of stage number 11 of the Romanian SuperLiga in which the red-blues faced Cluj University. The hosts led twice, but the game ended in a draw. Gigi Becali upset his team with the three changes from the break, and at the end he harshly criticized his players, especially Octavian and Ovidiu Popescu.
FCSB – U. Cluj 2-2, the first wrong step, on home ground, for Gigi Becali's team
FCSB led twice in the duel with U.Cluj, but was tied each time, and the duel ended 2-2. The fans were furious and booed their favorites even if we are talking about the first points in this championship lost at home. Joyskim Dawa got revenge after the racist chants of the last leg and opened the scoring in the eighth minute. The Cameroonian defender continued with two blunders and at halftime he was replaced by Gigi Becali, and Lixandru, the financier's new favorite, appeared on the field.
"Dawa didn't upset me. That was the decision to see Lixandru as well", explained the businessman.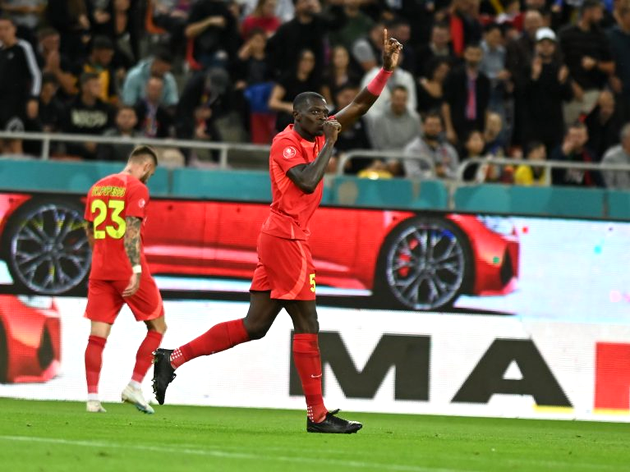 Two more goals were scored before the break. Dan Nistor equalized in the 26th minute, and in the 39th minute, Adrian Șut brought his team back to the advantage. Bogdan Mitrea had the last word, who scored from Dan Nistor's pass and established the final score, in the 88th minute: 2-2.
FCSB – U Cluj, starting teams:
FCSB: Târnovanu – Pantea, Ngezana, Dawa, Radunovic – Ov. Popescu, Șut, D. Olaru – Al. Baluta, Oct. Popescu, Fl. Coman
Reserves: A. Vlad, V. Crețu, Panțiru, Haruț, Compagno, Miculescu, Lixandru, C. Ganea, Djokovic
Absent: Chiricheș (injured)
Coach: Elias Charalambous
U Cluj: Gorcea – Peteleu, Masoero, Mitrea, Vătăjelu – Bic, Grobry, Nistor, Chipciu – Popadiuc, F. Ilie
Reserves: Iliev, Oancea, Fossati, Miron, D. Popa, V. Gheorghe, Silagi, I. Filip, Hofman
Coach: Ioan Ovidiu Sabău
Stadium: National Arena (Bucharest)
Referee: Ionuț Coza (Cernica), A1: Mihai Marica (Bistrita), A2: Vladimir Urzică (Piatra-Neamț)
Referee VAR: Ovidiu Hațegan (Arad), AVAR: Florian Vișan (Galați)
Gigi Becali crushed two players
Gigi Becali made three changes at halftime that upset the team. Andrea Compagno, Damjan Djokovic and Mihai Luxandru replaced Octavian and Ovidiu Popescu and Joyskim Dawa. At the end, the businessman harshly criticized the players.
"We have two players who slept on the pitch. Both Miculescu and Compagno came in, I was expecting more from them… I have no problem, because we are in first place anyway. We will have to make small criticisms, realize the players who deserve to play, who don't deserve to play.

It occurred to Ovidiu Popescu that he is a great footballer. He doesn't put his foot in anymore, he just runs after the opponent.

And Tavi Popescu thinks we are in the gym and tickling the ball. Tavi thinks he's tickling the ball, we're getting tickling now. He tickles her, he doesn't hold her, because if he could hold her to him it would be good, but now he tickles her twice and the opponent takes her. I liked Baluta. He had that phase in the first half. I do not understand. You're going to score and hit the outside.

I don't get it, I really don't get it, how do you deal with the exterior? I don't understand what this is? If Băluță was on the pitch, they wouldn't match us. He asked for a change, because he couldn't physically anymore", said Gigi Becali, at Prima Sport.
FCSB has 26 points after 11 stages and is in first place, and the next stage will face FC Botoșani away.