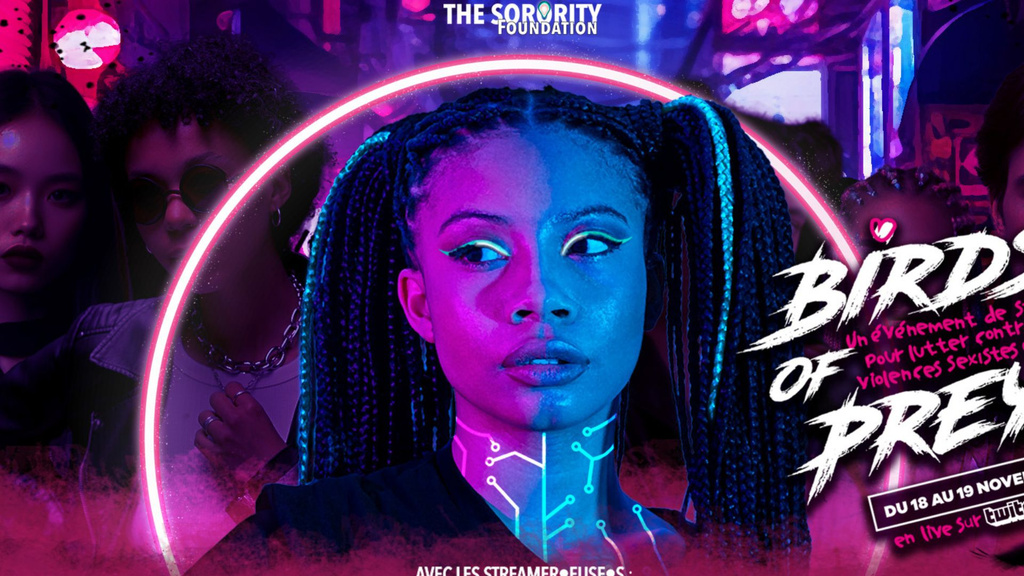 News culture Sad about the absence of the Z Event this year? Here are 6 charity events on Twitch that will make you forget it this weekend
There will be no Z Event this year. But that doesn't mean that charity events on Twitch are dead, far from it. Many of them have taken place in recent weeks. There's even another one this weekend! It's high time to take stock of the next charity events coming to Twitch.
Earlier in the year:
Stream for Food (collectif

Stream'Her

) : €14,188 for Greenpeace's Solidarity Farmers' Baskets campaign

Gaming for Sidaction

: €122,105 for Sidaction
Live charity

AmineMaTue

: €106,000 for victims of natural disasters in Morocco and Libya

MSF Quest

: €90,241 for Médecins sans Frontières

Game Stream Heroes

: €20,108 for Little Princes

Interglitches

: 23,597 for the Brain Institute

And Your Cause

: €72,145 for Family Planning
---
Birds of Prey 4.0
After €28,000 raised last year, Birds of Prey returns this year, and more precisely in a few hours. The charity event live from the CRIJ premises in Orléans launches its fourth edition this weekend. From Saturday, November 18, 2 p.m., to Sunday, November 19, 5 p.m., you will be able to find no less than 25 streamers including Yumeea, Imposte_tonstyle, XaeLeee or Seckooh. This year, your donations will go to THE SORORITY association. Its goal ? To struggle against "against domestic and intra-family violence, against harassment and more generally against all forms of violence faced by women, adolescents and people from gender minorities". To do this, the association has notably set up the THE SORORITY application to allow users to feel safer in the street and the SAVE YOU support and listening platform which is aimed at French families. outside France victims of domestic/intra-family violence. Want to support the event? Meeting on the CRIJ Center Val-de-Loire Twitch channel.
---
Awesome Games Done Quick 2024
Do we still need to introduce Awesome Games Done Quick? The American event, also known as AGDQ, is both a charity and speedrunning stream. For a week, crazy performances take place in different games, all for a good cause. Last year, no less than $2.6 million was raised for the Prevent Cancer Foundation. This American association has existed for 38 years now and works hard to improve the prevention and rapid treatment of various cancers. No less than 300 scientists and 430 research projects around the world have been funded in part by the Prevent Cancer Foundation. This is why the AGDQ has made it a long-term partner. This year again, it is therefore naturally still the Prevent Cancer Foundation which will benefit from donations from the event. But when does it take place? Well from January 14 to 21, 2024. You can now find the schedule and therefore the AGDQ 2024 games here.
The #AGDQ2024 second submission period is coming up Nov. 20-27!

We're excited to see these games:
Starfield
Baldur's Gate 3 (long category)
Lies of P
Armored Core 6
RE4 Remastered Separate Ways DLC
Super Mario Bros. Wonder

*Submission of listed games doesn't guarantee entry

— Games Done Quick 🔜 #AGDQ2024 (@GamesDoneQuick) November 4, 2023
---
SpeeDons
We're staying on speedrunning with the French charity event dedicated to it: SpeeDons. Organized by the streamer Mister MV for 4 years now, this event lasts a weekend and aims both to offer remarkable performances and to donate for a good cause. And this cause is the one defended by Médecins du Monde. The association has been the beneficiary of the event since its beginnings. Founded in 1980, this medical and humanitarian association "intervenes independently in France and internationally to guarantee universal and sustainable access to care." Last year, no less than €1,252,638 was raised for Médecins du Monde thanks to SpeeDons. We hope that the next edition will raise similar funds. See you from February 29 to March 3, 2024 at the Lyon Congress Center and on Twitch. You can also register if you wish to volunteer for the event by filling out this form.
---
Frost Fatales 2024
In the Games Done Quick ecosystem, there is more than just AGDQ. Frost Fatales is also a charity speedrunning event that can be found on the Games Done Quick website but this time organized by Frame Fatales. This community brings together women and people from gender minorities who are interested in speedrunning and charity events. The goal is the same every year: raise money for Malala Fund. This international association founded by activist and Nobel Prize winner Malala Yousafzai in 2013. Its goal? Campaign for the right to education for all young girls. Last year, Frost Fatales managed to raise $110,828 for this cause. From March 3 to 10, 2024, it will be possible to try to beat this record during the 2024 edition of Frost Fatales. We are also in the middle of the registration period. If you are interested you can take a look ici.
---
Desert Bus of Hope
This year, the charity event organized by Loisirs Numériques celebrated its 10th anniversary. For 10 years, speakers and other players have been driving the Desert Bus of Hope, for a good cause. Gathered around a game that is quite basic and frankly not very good, they are there every year to collect donations for the Little Princes association. His mission ? Realizing, since 1987, "the dreams of seriously ill children and adolescents." Last year, €70,609 was raised for this purpose. For the moment, we do not have a date for the next edition of the Desert Bus of Hope. The latter has nevertheless been confirmed and we should therefore have information about it in the weeks or months to come. For comparison, the 2023 edition took place from February 10 to 12.
---
Telethon Gaming
As its name suggests, the Gaming Telethon is an event which is part of the Telethon. Since 1987, this charity event organized by the French Association Against Muscular Dystrophy (AFM) brings together donations each year. "to finance research projects on genetic neuromuscular diseases." For several years, the Telethon has given an important place to players with the organization of the Gaming Telethon. Organized in parallel with the classic Telethon, this event brings together streamers to help increase the prize pool. Last year, the Telethon raised more than 91 million euros. Here again, we do not have dates to communicate to you but the 2024 edition has been confirmed. And since the Telethon will take place on December 8 and 9, we can imagine that the first information about the Gaming Telethon will not take long to arrive.
---