News culture The first reviews are excellent! The animated series Scott Pilgrim is finally available on Netflix and apparently it's really worth the detour
Born through the comics of Bryan O'Malley, the Scott Pilgrim franchise has seen a little bit of everything. The adventures of the characters became cult, quickly giving rise to a film adaptation, an adaptation which did not work before becoming cult in turn. 13 years later, Scott Pilgrim is back on Netflix, and obviously, it's going very well.
Scott Pilgrim: a chaotic journey but cult license status
Published by Oni Press and Milady between 2004 and 2010, the comics Scott Pilgrim have acquired an aura of cult work. It follows the adventures of a young Canadian, 23 years old, who plays bass in a small band while waiting to find a job that he is not really looking for. One day, he meets a certain Ramona, and instantly falls in love with her. Unfortunately for him, he can't go out with his crush that after defeating Ramona's seven exes, presented as evil. Beginning in 2005, O'Malley won the Doug Wright Award for Best New Talent and was nominated for three Harvey Awards.
Very quickly, the success of the comic put Scott Pilgrim on Hollywood's radar, which gave Edgar Wright to directwho you may know from having participated in the Cornetto trilogy (Shaun of the Dead, Hot Fuzz, The Last Pub Before the End of the World) with Simon Pegg and Nick Frost. We find there Micheal Cera as Scott, Mary Elizabeth Winstead as RamonaEllen Wong, Mark Webber, Alison Pill, Allan Kendrick or even Brie Larson et Chris Evans. Released in 2010, the film was a dismal failure at the box office, with only 48 million dollars generated for a budget of 60 millions excluding marketing. However, over time, the film regained popularity to the point of becoming cult and today being considered an imperfect but very interesting work to watch. Alongside the film, a short animated series was broadcast, and a game developed by Ubisoft Montreal has been published.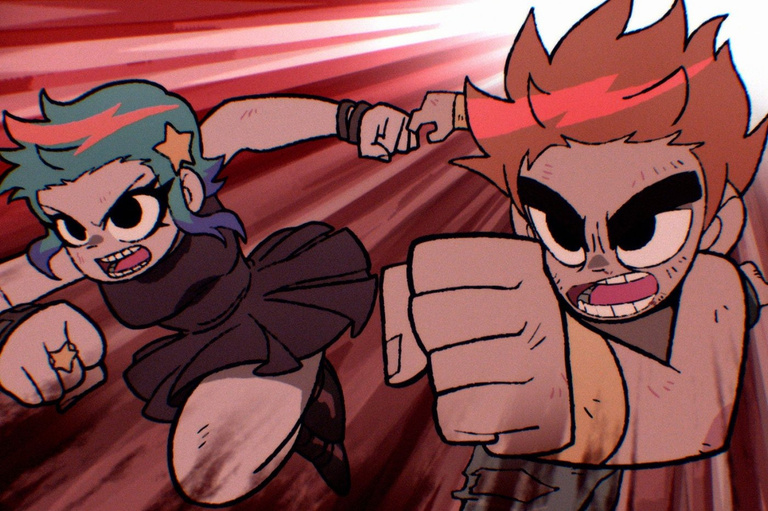 Scott Pilgrim is taking off, and so are the good reviews!
While we thought the license was in a corner, now in 2022, The Hollywood Reporter announces that a new animated series was in production for Netflix. Everything is then entrusted to the Science SARU studio (Star Wars Visions, Super Shiro) directed by Masaaki Yuasa. Another announcement, the English dubbing must be provided by the cast of the film, something to please fans. The animated series Scott Pilgrim Takes Flight, which aimed to link the different adaptations into a coherent whole, arrived on Netflix this Friday, November 17. Impatience was mixed with worry, but the first feedback is nothing short of excellent!
At IGN, for example, we're talking about a "stunning reincarnation of comics" that doesn't just play on nostalgia. On the Guardian side, we're talking about a "new direction offering a thrilling perspective on the universe" while at Collider, we're talking about a set that's worth it "mainly because of its aesthetic and animation." However, the site seems less convinced by the ending. On Metacritic, the series currently has a score of 81/100, knowing that the reviews mainly come from North American media. Whatever it was, it seemed to convince her, a sign that Scott Pilgrim had not said his last word.
---