Game news Call of Duty Modern Warfare 3, really the worst episode of the series? Here is our verdict!
That's it, our Call of Duty Modern Warfare 3 review is out! In this article, we invite you to watch our video verdict and we give you information to know if the game is for you.
Please note, this is a video:
Find in the header our video test of the latest part of Call of Duty: Modern Warfare 3 (2023).
So, what is this new Call of Duty worth? After relatively terrible reviews from the press and players – with 56/100 on Metacritic, it's the franchise's worst rating in 20 years – we too went to the front! It is clear that apart from a "big DLC" image that sticks to him (and which is completely understandable), Modern Warfare 3 still has some nice things to offer. We take a quick look, we encourage you to watch our video test.
A strawberry campaign, solid multiplayer
Let's start with the campaign! As explained in our full verdict, the solo of this opus is really not a strong point and resembles more a collection of small experiences than a complete and breathtaking adventure. It's just too short (5 hours), too quickly dispatched, we have the impression of being thrown to the four corners of the world according to the macabre ideas of Makarov (the main antagonist).
It's a shame, because this campaign is trying things. New this year are the open combat missions, more open phases than usual where the player can choose his equipment and approach the various objectives as he wishes… On paper, why not, it even gives rise to a very successful "Skyscraper" sequence . But most of the time, these passages are more frustrating than anything else, the fault of a level design, of enemies clearly not designed for infiltration.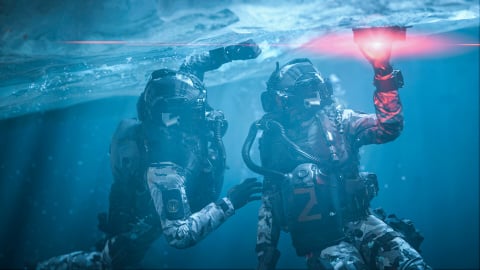 The observation is more encouraging when we look at multiplayer… Beyond the return of 16 cult maps from Modern Warfare 2 from 2009 – this episode brings clearly significant new gameplay features, like the "slide cancel" (which allows you to interrupt a slide at any time) or the "tactical position", a new aiming mode accessible at any time, very useful in short and medium combat scope. All in all, Modern Warfare 3 seeks a balance between nostalgia – we also note the return of the classic mini-map – and modernity, building on all the gameplay additions of Modern Warfare 2 (2022). And in terms of gaming sensations, it's super successful, even if we note some problems with "TTK" (time to kill) and defective spawns.
We quickly finish with the Zombie which, although copy and paste on the DMZ and Warzone mode, is doing quite well for the first time in open mode. As in the modes mentioned previously, you have to chain contracts to earn money | get the best equipment possible. But, if you lose your life without successfully exfiltrating, you lose everything… The objective is therefore to chain the games with a certain composure to go ever closer to the center of the map – where the challenge increases drastically. In short, it's quite gripping, and overall, MW3 is worth a "small" 14/20.