The Sibiu court on Sunday issued preventive arrest warrants on the names of the three men who allegedly beat and killed the businessman Adrian Kreiner.
It is about Cosmin Costinel Zuleam, Marian Cristian Minae and Laurentiu Ghiţă.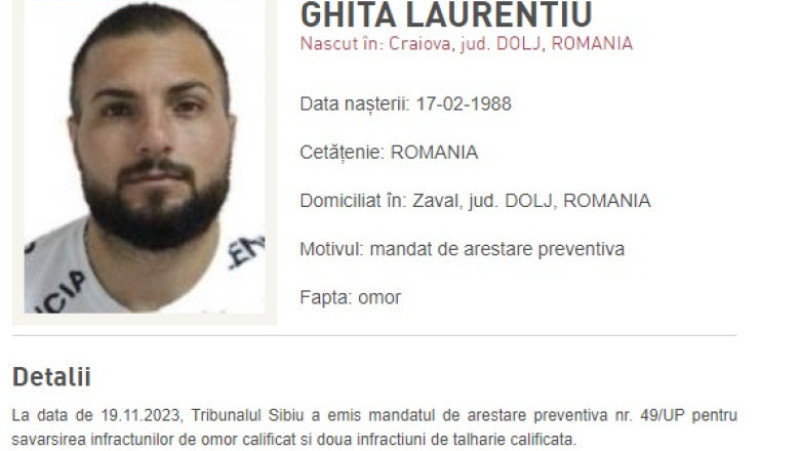 "Based on art. 226 and art. 223 paragraph 1 letter a and paragraph 2 CPP, related to art. 202 paragraph 1 and 3 CPP, admits the proposal for preventive arrest of the defendants ZCC, GL and MMC, formulated by the Prosecutor's Office attached to the Sibiu Court, and consequently : Orders the preventive arrest of the defendants: ZCC, GL and MMC for a period of 30 days, each, starting from the date of execution of the preventive arrest warrant. Rejects the request of the defendant MMC, formulated by the lawyer appointed ex officio, to take the measure of house arrest. With the right of appeal within 48 hours of communication. Pronounced in the council chamber, today, November 19, 2023", reads the court's decision, quoted by Agerpres.
Also on Sunday, the three were pursued by the Romanian Police, for committing the crimes of aggravated murder and aggravated robbery.
Cosmin Costinel Zuleam was born in 1992 and lives in Horezu Poienari, Dolj county, and Marian Cristian Minae and Laurentiu Ghiţă were born in 1988 and live in Zaval commune, Dolj county.
The three men were not caught by the authorities and there are reports that they left the country.
In this case, a man from Dumbrăviţa locality, Timiş county, was arrested, accused of being an accomplice with the three criminals, he being the one who brought them to Sibiu.
A few days ago, another man from Dolj was detained, but he was released after 24 hours, after the investigators came to the conclusion that he had nothing to do with the crime in Sibiu.
On November 6, businessman Adrian Kreiner was beaten and robbed in his own home. The thieves stole watches worth 200,000 euros, but they did not take the money that was in the house, according to the prosecutors. The businessman's girlfriend and daughter were also in the house, but they were not hit.
Editor : M.B.