Romania's national football team has qualified for EURO 2024 after an eight-year absence from a final continental tournament. Saturday's victory, from Felcsut (Hungary), 2-1 with Israel, mathematically assured us access to the competition that will take place next summer in Germany.
How much money does FRF get after qualifying for EURO 2024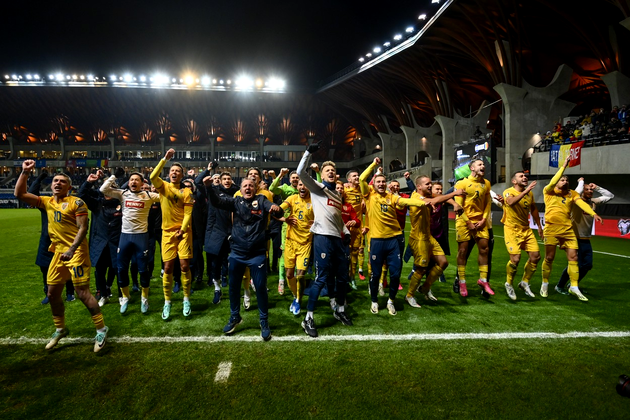 It will be the sixth time that the "Tricolori" will participate in such a competition. As soon as the Romanian delegation returned to Bucharest, on Sunday at noon, being welcomed on the red carpet at the Official Hall of Henri Coandă Airport, Răzvan Burleanu (39 years old) decided the fate of Edi Iordănescu (45 years old).
The bonus won by Răzvan Burleanu for Romania's qualification to EURO 2024
The selector received the referral from the head of Casa Fotbalului, and Iordănescu jr also immediately made a decision. He said he would go into silenzio stampa after the Switzerland match until close to the final tournament. He motivated his decision by the fact that the last period has been extremely busy for him and that he needs to calm down and spend more time with his family.
For qualification for EURO 2024, the Romanian Football Federation will be rewarded by UEFA with approximately 10 million euros. A percentage of 8% of this amount will be directed to the administrative staff of the forum that runs Romanian football. This is how Burleanu will receive a premium worth just under 100,000 euros, while Radu Vișan, the general secretary of the FRF, will receive around 70,000 euros. Then, the rest of the money will be distributed proportionally to the other employees.
Read also: In which value box would Romania enter now, at the draw for Euro 2024. What would be the hardest group
And the players, as well as the technical staff, will be rewarded for the success already recorded. Romania has one more goal in Group I. If we get at least a draw in the match tomorrow, Tuesday, November 21, 2023, with Switzerland, which will start at 21:45, at the National Arena, then we will finish the preliminaries in first place and we will promote after the second prize draw, scheduled for December 2.
Dragomir said how much money Edi Iordănescu receives from the FRF
So, Edi Iordănescu will remain Romania's coach. For his daily activity, the coach is remunerated with 30,000 euros per week, as revealed by Dumitru Dragomir. The former president of the Professional Football League claims, however, that Iordănescuu jr should be remunerated much better.
Read also: How much money will the "tricolors" receive, if they qualify for EURO 2024. How to divide the ten million euros awarded by UEFA
"Does anyone have the courage to kick him out now? Or say something to him? If I were in his place, I would ask for at least one million euros a year.
He has 30,000 euros per week, so 360,000 euros per year. If I were in his place I wouldn't stay under a million. After these results, if he gets upset and doesn't go to Germany, he's a 5 million euro coach in Saudi Arabia. He is one of those who qualified a national team for a final tournament", said Dumitru Dragomir, at fanatik.ro.