News culture It's historic. This 2023 anime is the best ever!
Fullmetal Alchemist: Brotherhood is considered by Japanese animation fans to be the best anime of all time, and has been for many years. They also work together to ensure that FMA remains TOP 1 against all odds. However, an anime released in 2023 has finally managed to dethrone the king of anime.
Frieren, best anime of all time
This is not the first time that a Japanese animated series has grabbed the coveted title of "best anime of all time" right under the nose of Fullmetal Alchemist. Indeed, Oshi no Ko aired between April 12 and June 28, 2023 and managed to make its way to the top on MyAnimeList before plummeting severely. It is now ranked 46th (as of November 20, 2023) with a score of 8.74/10 out of 395,349 votes. Frieren's case is very different.
The Frieren anime begins on September 29, 2023 on Japanese television and in parallel on Crunchyroll in the rest of the world with four episodes which set up the universe, introduce the characters and launch the quest of its main character, a thousand-year-old elven mage and her young human disciple. Frieren quickly moved into the TOP 50, then slowly but surely climbed into the TOP 20, then 15 before settling into 2nd place. It was during the following weekend (November 18 and 19, 2023) that the anime from Madhouse studios achieved the feat of dethroning FMA. With his rating of 9.10/10 out of 296,036 votes, Frieren is TOP 1 ahead of Fullmetal Alchemist: Brotherhood (9.10/10 out of 3,254,419 votes).
The synopsis of the anime Freeze :
Himmel the Brave and his companions defeated the king of demons. As the jubilant crowd welcomes them to the royal capital, they wonder what they will do next with their lives. Faced with the great meteor shower that occurs twice a century, the elf Frieren suggests that the others take them to admire it from a better place next time. The hero Himmel accepts his proposal with a little smile… – Crunchyroll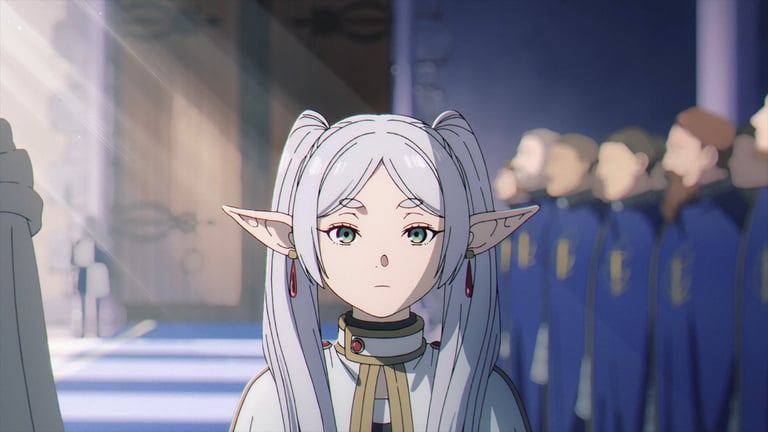 ---
Anime fans are in for a treat this fall
There are some years that are much better than others in the world of Japanese animation. 2023 was an excellent vintage, but the autumn period proved exceptional, whether in quantity or quality. Around twenty animated series from Japan are at least worth a look, if not sometimes your full attention. Varied themes and prestigious animation studios… the last quarter of 2023 is a masterclass!
Berserk of Gluttony
Captain Tsubasa : Junior Youth-hen (saison 2)
Dr. Stone : New World – Partie 2
Firefighter Daigo : Rescuer in Orange
Freeze
Goblin Slayer (saison 2)
Jujutsu Kaisen (saison 2)
Attack on Titan – final season – Final Chapter
MF Ghost
Onimusha
Pluto
Shangri-La Frontier
Shy
Spy x Family (saison 2)
The Apothecary Diaries
Tokyo Revengers: Tenjiku-hen
Undead Unluck
Zom 100 : Bucket List of the Dead
---