News astuce EA Sports FC 24: Heung Min Son offered for free as a Prime Gaming reward, here's how to collect it!
That's it, the EA Sports FC 24 Twitch Prime rewards for November are finally available! Here we explain how to get them back and above all what awaits you, in particular a Korean football star on loan waiting for you.
Summary of our EA Sports FC 24 guides
Twitch Prime rewards for everyone!
Before we launch into the list of rewards, but also on how to obtain them, let's start by telling you that this year, the Twitch Prime rewards have had the right to a small change and that they are now accessible on all platforms.
This may seem like common sense, but Nintendo Switch players simply couldn't claim their Twitch Prime rewards last year. On EA Sports FC 24, this is now ancient history and you will certainly not be able to collect them only once, but on the platform of your choice!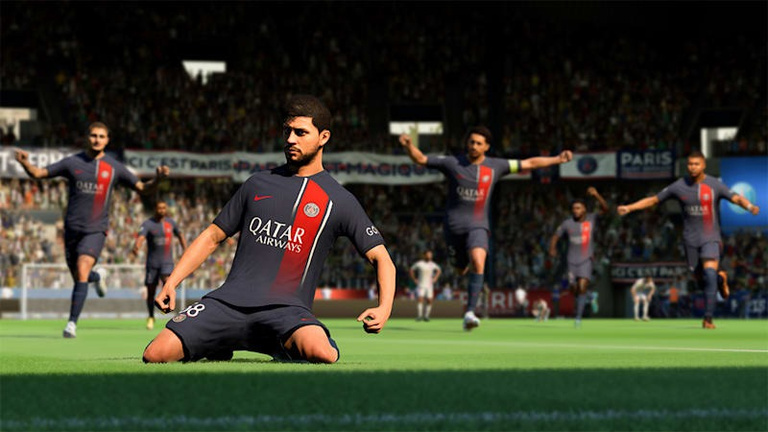 Heung Min Son joins your FC 24 team for 20 matches
Exactly, what are these rewards? Well, the one that's going to make the most noise is definitely going to be the loan. For this month of November, it's bustling Heung Min Son who will be offered to us for a period of 20 matches loan.
A loan long enough to be able to test the basic version of the South Korean map and perhaps why not convince you to make the purchase afterwards. In any case, this map is quite interesting and could find a place in quite a few Premier League teams.
In addition to this reward, you will also get a pack of 4 rare gold players. If you have a little luck, you might come across a good pickaxe or at least an interesting fodder for a future DCE. For the full list of rewards, we'll let you take a look below.
Heung Min Son on loan for 20 matches
A pack of 4 rare gold players (non-tradable)
1 player choice 81+
6 rare consumables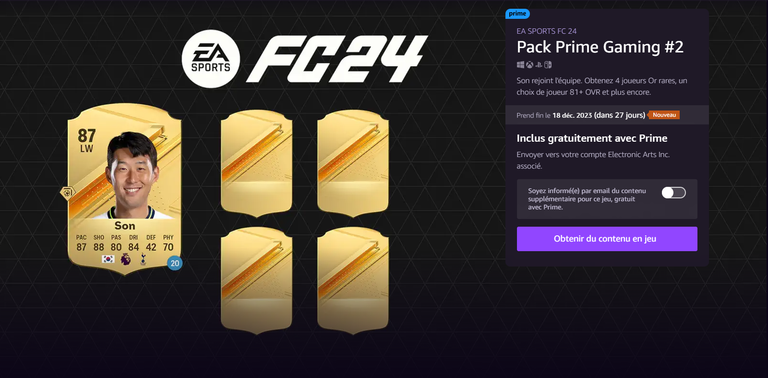 If you want to collect all these rewards, there is nothing complicated. Just make sure you do it before the promotion ends. This takes place on December 18which leaves you almost a month at the time of writing these lines.
The first thing to do will be to go to this page. Please note, we are talking here about a Twitch Prime reward and not a drop, which means you will need an active subscription if you ever want to collect these rewards.
Then click on the purple button. If it's not done yet, You will be asked to link your Twitch and EA Games accounts. Then all you have to do is go into the game to find out which cards you will get in your rewards!