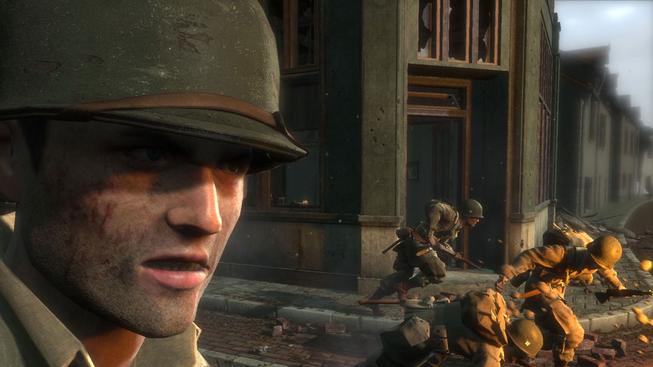 The much-loved series Brothers in Arms has long been considered dead. After all, her last part of Hells Highway was published in 2008, ie 13 years ago. Here and there information appeared that the creators had not forgotten about the brand, but we have not received anything yet.
Gearbox boss Randy Pitchford himself is now pouring hope into the veins of fans, although this is not the first time. He made a name for himself in the podcast Academy of Interactive Arts & Science, which documented the history of the study. The podcast was surprisingly created in April of this year, but only now has it been uploaded to YouTube, where information about the new game was noticed by the website Alt / Char.
Randy Pitchford tackled the very early announcement of Aliens: Colonial Marines in the 53rd minute, from which he learned and, for example, did not let the world know about the existence of Borderlands 3 until the game's development in beta was really advanced.
He then said, "I'm annoyed because I know there are a lot of people here – we're working on another Brothers in Arms, but I won't even tell him until we have it." We have fans who really love the series, but who will just suffer. "
So the new Brothers in Arms are really being worked on, but they won't show up to the world until there is no going back in their development. Recall that Hells Highway was not the last known part of the series. Gearbox worked for some time on the game Brothers in Arms: Furious 4, from which we even have impressions from 2011 from the then E3, for which we owe Peter Poláček.
At that time, the game aroused a wave of controversy, as it was no longer a tactical, but a furious shooter, which they finally decided to break out of the Brothers in Arms brand in Gearbox, into which it simply did not fit. In the end, the game never came out, which was only a relief for many fans. At that time, however, it was also announced that an orthodox continuation of the series was being created with the main protagonist, Matt Baker. In 2015, it was also said that the new Brothers in Arms will actually be, but where nothing, nothing here.
The question arises as to whether it is one and the same project, or if Gearbox is slapped in the creation of a sequel and has tried it several times. It would not be unusual in the game world if one game was created for ten long years and changed beyond recognition several times during its development. In the end, let's hope that we won't wait another decade for the new Brothers in Arms, and that in the end it won't just be the rebirth of Furious 4 …
.