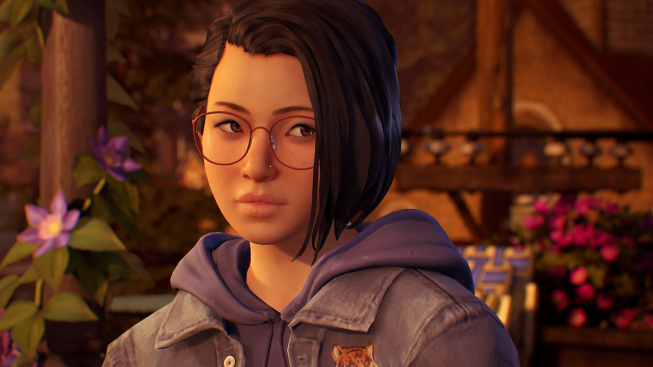 Belong somewhere. However, a basic human need, which for those who have the right nature and ability to integrate is as automatic as breathing for them, quite possibly never even came to mind. But others were not so lucky and to experience a sense of belonging is like an insurmountable rock for them.
Alex, the protagonist of the story adventure Life is Strange: True Colors by Deck Nine, who leaves the children's home and comes to her brother's town in Haven Springs, Colorado, to try to find a new beginning after childhood and adolescence marked by a dysfunctional family. And even a place that, if all goes well, will finally not be afraid to be called a real home. Maybe it will work this time.
Alex and the others
It cannot be said that the heroine is a completely internally balanced, problem-free person, whose mind is metaphorically chirped by birds and their rainbows are spreading. But of course this is no surprise. After what she had to go through and how she grew up, it would be more surprising if she was completely fine.
It is marked by experience, shielded, hidden behind walls and barriers, which she built herself. On the one hand, this means that the only problem is actually "only" in her head. But what we are, they are by far the worst. After all, the mind is the only tool for interpreting reality, and therefore the problem in the mind in short is reality.
But he's trying. It doesn't always work out, of course, and she doesn't always manage to maintain a fragile inner balance, but she tries. He does not sit (mostly) in a corner in a pool of tears, drowning in self-pity. She tries to heal of her own free will, which she succeeds in slowly, through her own determined diligence and support from others. And that's why I fell in love with it very quickly. He is an extremely nice being with whom it is not a problem to immediately sympathize and wish him only the best. Alex is probably the biggest advantage of the whole game.
The rest of the staff are just … people. Frameworkly believable, understandable, playing their roles on the boards of a small town. But True Colors is quite a short game, you'll be done in ten to twelve hours and there are quite a few characters, so the creators only manage to draw them briefly. As a result, I can't say that someone would really bother me or I wouldn't believe him, because the basics are written tightly enough, but at the same time I would also lie if I claimed that I was outraged with someone.
Which is a bit of a shame compared to previous stalls. The first part was de facto based on the relationship between Max and Chloe, Before the Storm on Chloe and Rachel. Both friendships (or something more) received enough undisturbed attention and sensitive building so that they could fail while playing if they wanted to.
On the other hand, it is clear in True Colors that a triangle is supposed to form between Alex, park ranger Ryan and musician Steph (which you can remember from the aforementioned Before the Storm), but the game also tries to build the heroine's relationship with the city, many people at once. , in addition to that, it solves the central crime of secrets, and in the end it is simply too short to make it all meaningfully. For a little narrower, but even more sensitive shot, I would not be angry.
City
It wouldn't be a game from the Life is Strange series if it didn't work with some supernatural ability. This time it is a kind of overclocked empathy. Alex can read the emotions of others and empathize with them so much that he then perceives the world literally through their eyes and through their thoughts. Which is a great idea on paper with huge potential, because you don't even have to think for a long time and you immediately think of ways to win great.
But the game doesn't do much in practice. So, don't get me wrong, you will use the mentioned special ability almost constantly, but the design itself is, with a few successful exceptions, quite a dozen. Usually, you just focus on someone, use the Force, listen to what they are thinking, and this will open up a new dialog for you. Alternatively, you enter someone's mind, through their perception, you look through a few objects to find out how they feel, and that … yes, it opens up a new dialog.
source:
Potentially excellent game mechanics are reduced only to narration technique. It is a pity that the developers did not allow themselves to dive more into the mental worlds of others. It would be an excellent means of a concert of visual communication, a white screen for the creative depiction of emotions and the associated symbolism, on which the creators could show off.
But the game really does it twice in all the time. In both cases, it's really worth it and the result is great scenes, none of that, but it would be nice if there were more. But I guess there was probably no time or resources left for that.
Hesitant plot
I'm not happy that the same game from Deck Nine has the same narrative uncertainty as the first. At Before the Storm, what bothered me the most was that the creators couldn't decide whether to tell a chamber, intimate story of two girls, or a criminal drama. Not that it wasn't possible to combine something like that, but it didn't work out very well, and the result eventually stood strangely between the two approaches. And in True Colors, it's the same in pale blue.
On the one hand, we have a confidential story about Alexina's personal development, emotional healing, finding a fixed point and herself. And on the second crime thriller with a conspiracy of a multibillion-dollar corporation. Honestly, the pseudo-detective not only didn't have to be here at all and nothing would happen, I'm even convinced that without it the game would be stronger, more striking and simply better.
True to the color of the series, the game from time to time does not avoid even flirting in lemonade pathos. To everyone who is his, of course, but I must say for myself that I would have easily forgiven myself for a few purely sweet-sick moments that True Colors has prepared.
Daybreak
I understand that the text has probably still sounded like a relatively strict execution for the most part. But the game does not deserve it, because, as I have already indicated, from time to time it unpacks the situation, a scene that is so immersive that it is very easy to get the complaints out of your head, at least for a while.
A good example is the moment when Alex plays LARP in the streets and park of the town. And as others become more and more engrossed in a fantastic world full of monsters and magic, the environment around the main character reflects it. So you start with a papundecel helmet and a foam sword, and during the final battle you are already standing in armor and "real" lightning bolts and fireballs are flying through the air. Absolutely famous section and a great, playful, creatively processed rendition of empathy.
Since I don't want to reveal anything, I will refrain from a thorough description in the next scene, I will just confirm that such a trip to an incurable disease with my own eyes is also quite a solid force.
Small side plots and nice details for attentive players are also pleasant. For example, if you notice a nervous girl at a bar table and read her emotions, you will find that she would love to run, but she is so nervous that others will laugh at her that she will not get into it in the end. So you push her with a small story and later you meet her on the street, happy after the just finished run.
You may notice it, you don't have to. Sure, in reality it has no effect on the course of the game, but maybe just because it's just such a nice little thing, it can surprisingly warm the heart.
If you enjoyed number one, you will enjoy True Colors too.
One more point cannot be made in connection with the above: Games from the Life is Strange series are generally based on emotions and their transmission to the player. And this means in principle that their acceptance will be highly subjective and significantly different for each person. To a large extent, it depends, for example, on personal experiences and the resulting ability to identify with any scene.
The fact that many scenes didn't move with me in True Colors and seemed premature or too fiercely pathetic to me doesn't mean you'll have the same. On that account, I'm not afraid to say that if you enjoyed number one, you can take a grumble about the emotional level from inside a dead reviewer with a certain degree of foresight, because you'll enjoy True Colors too.
Passive audience
The veterans of the series will certainly not be surprised by the mug, when they learn that active gameplay is very simple to primitive. And beware, this is true even if we apply the comparison only to the series itself. True of all, Life is Strange is the least video game and the most easily interactive film.
The classic adventure gameplay is practically absent. There are two problems that can be described as riddles or puzzles if you follow the traditional nomenclature, and I still close both eyes.
All player interaction shrinks only to the classic dialogue choices, which, no less classically, are more of an illusion than anything else. You can use them to influence certain partial aspects of individual events, yes, but it is impossible to say that the story would ever branch out directly or you would have an impact on its outcome.
That, hand on heart, roughly corresponds to what I would expect from the game, but I still can't shake the impression that it wouldn't be much more of a player to get involved. After all, even the previous Life is Strange had at least hints of puzzles, it was necessary to solve something, invent something, even though the game held your hand tightly. However, True Colors serves everything automatically.
Refuge
The game deserves unequivocal praise for its audiovisual presentation. The animation and the quality of the graphics are the best in the whole series, it is a pleasure to look at the detailed environment and especially the interiors were really exceptional, which of course is helped by ray tracing, which is most noticeable in small spaces.
zdroj: Deck Nine
The soundtrack sticks to the notes set by the previous episodes. Which means that if the choice of songs in the previous stages suited you, you will enjoy listening again, and if you didn't enjoy it before, it won't interest you this time either.
Beware of console versions
Unfortunately, one relatively major inconvenience must be given space before the full conclusion. The frame rate in the console versions, and by that I mean those for the PlayStation 5 and Xbox Series X / S, is firmly locked at thirty. Even if you only play 1080p on the new generation.
Sure, we're not talking about a game in which you wear Colts damn low and you need to shoot someone between your eyes with lightning speed every now and then, so it doesn't have a real impact on the gameplay itself, but it still disturbs it terribly, because it just strikes you. The image shakes like a jelly dropped from the stairs, and in some scenes it's so striking that I just preferred to look ahead, as urticaria tried to look at me from the side.
The creators on Twitter hastened in a hurry, arguing that it was completely intentional and that they introduced it because of the filmmaker's experience. Which, since there is no similar fps limit on your computer and the game looks and looks much better, I have a bit of a problem believing.
In short, a brutally torn image doesn't really look good, and you can't even turn off annoying chromatic aberrations on consoles, which is actually an optical defect in the lens, which I don't understand why, some creators still have a stubborn tendency to stuff into their games. You can work around this on your computer and turn it off at least by editing the configuration file, but you're just unlucky on the console. So if you want to play True Colors and you have the opportunity, try to prefer a computer instead.
Title for a specific audience
Life is Strange: True Colors has good ideas, which sometimes work great and sometimes sigh. It's not without flaws, and honestly, it wouldn't be out of place if Deck Nine thought about narrative-style adjustments, because it would be very annoying if the same problems were to be repeated three times.
But at the same time, the game does enough things to make it worth trying. Especially if you feel that you could identify with the topics of empathy and emotional separation and rapprochement.
.